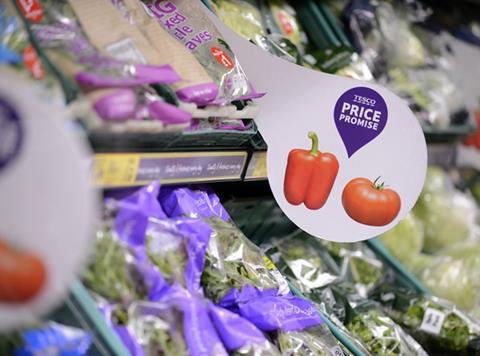 Top story
The inflationary gap between Tesco and its big four rivals has reached a new high even as inflation across the big four supermarkets flattens.
The Grocer Price Index, collated from over 60,000 individual SKUs across the big four, remained stable at 2% in the month to 1 March.
However, the disparity in inflationary price increases is growing. Tesco set its highest level of annual inflation since April 2012, rising to 4.1% from 3.8% the previous month.
At the same time, annual inflation at Morrisons dipped from 1.1% to just 0.4% in the month to 1 March. It means the gap between Tesco and the supermarket with the lowest inflation now stands at 3.8 percentage points, having been 2.8ppts last month and just 1.75ppts in the month to 1 October.
Inflation is also falling at Sainsbury's - down from 1.2% to 0.7% - and Waitrose, down to 1% from 1.3%. Asda's annual inflation rose slightly to 1.6% from 1.1%.
Click on thegrocer.co.uk/finance for full details later this morning.
Morning update
Also in this week's edition of The Grocer, Yeo Valley returned to top-line growth last year, but profits were hit by soaring milk prices and the devaluation of the pound as the business prepares to sell its dairy arm to Arla Foods.
Newly filed accounts at Companies House show Yeo Valley's sales rose 4.3% in the year to 28 May 2017 to £284.9m, having fallen 3.9% in its previous financial year.
However, escalating input costs meant there was an 8.6% jump in the cost of sales to £173.1m results in a 13.7% drop in operating profits to £10.8m and a 13.4% decline in pre-tax profits to £10.3m.
On the markets this morning, the FTSE 100 has opened flat at 7,205.2pts.
Conviviality is continuing to take a hammering (see below), dropping a further 17.9% to 101p - it was trading at over 400p at the start of 2018.
Stocks on the up include McBride (MCB), up 2.8% to 154.5p, Hilton Food Group (HFG), up 2.5% to 830p, Hotel Chocolat (HOTC), up 2.2% to 355p and Ocado (OCDO), up 2.1% to 588.8p.
Fallers so far include PureCircle (PURE), down 0.8% to 427.5p, Total Produce (TOT), down 0.7% to 212.4p and Greencore (GNC), down 0.7% to 183.7p.
Yesterday in the City
The FTSE 100 continued its climb back from last week's falls - and much deeper falls in February – rising another 0.6% to 7,203.2pts.
However, Bargain Booze owner Conviviality (CVR) shocked the market with a late profits warning yesterday afternoon, which plunged the alcohol and retail group's shares down 59.2% to just 123p. Conviviality admitted to a "material error" in its financial forecasts and now expects that adjusted EBITDA for the current year will be "approximately 20% below current market expectations".
On a good day for consumer stocks elsewhere, Britvic (BVIC) jumped 6.2% to 724.5p after Morgan Stanley upgraded the stock, praising its efforts to navigate rising cost inputs and the UK sugar tax through cost efficiencies and selective price rises.
Other fmcg companies on the rise included Greencore (GNC), up 3.6% to 185p, Diageo (DGE), up 2.5% to 2,441p, Unilever (ULVR), up 2.4% to 3,880p, Coca-Cola HBC (CCH), up 2.3% to 2,516p and Reckitt Benckiser (RB), up 2.3% to 5,752p.
Ocado Group (OCD), also performed well yesterday, rising 2.2% to 577p, but it was a tough day for the rest of the grocery retail sector as worries over physical retail hit shares.
Marks & Spencer (MKS), plunged 3.3% to 278.6p given its exposure to general merchandise and clothing in particular, while Sainsbury's (SBRY) dropped 0.9% to 241.8p, Tesco (TSCO) fell 0.7% to 209.9p and Morrisons (MRW) dropped 0.4% to 225.2p.
Other fallers included Stock Spirits Group (STCK), carrying on its slump from Wednesday, falling 3% to 262p, McBride (MCB) lost 2.8% to 150.4p, Devro (DVO), fell 2.4% to 202p and Hilton Food Group (HGF), fell 2.4% to 810p.