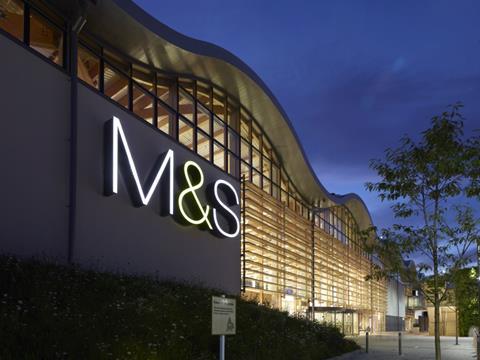 Top story
Marks & Spencer (MKS) has said its food division outperformed a "highly competitive" market in its first quarter as like-for-like sales edged up 0.3% and total sales by 3.2%.
The high street bellwether said in a trading update that it was on track to open 90 Simply Food stores this year, and it continued to see good performance from outlets opened to date. It also launched 700 new lines in the 13 weeks to 27 June, including the new Taste of the British Isles range. However, like-for-like general merchandise sales fell 0.4% in what was a "challenging and promotional" quarter. Overall, UK like-for-like sales in the period were up 1.9%, with total sales flat.
CEO Mark Bolland said: "We continue to make progress against our key priorities. Our food business did very well in a difficult market. In general merchandise, sales were broadly level on last year and we are on track to deliver the planned increase in gross margin. M&S.com performance was very strong, with customers appreciating all the improvements to our website."
Shares in the retailer opened 1% higher this morning to 556.6p on the back of the update.
Morning update
Adjusted operating profits at McBride (MCB) will be in line with expectations, the private label consumer products group has reported in a full-year update. Group revenues for the year ended 30 June were 0.3% higher on a constant currency basis than the previous 12 months. McBride benefited from continued strong growth in Germany, offset by lower revenues in other continental European markets and the UK. Its shares are up 0.5% to 102.5p so far this morning.
AIM-listed butcher Crawshaw Group (CRAW) is searching for a full-time CFO as it gets ready to ramp up its store expansion strategy. Lynda Sherratt will step down from the board as finance director on 31 December. She will continue to work in her current role, which is two days per week as finance director and company secretary for the next six months, while a successor is found. CEO Noel Collett said: "We wish to express our sincere gratitude to Lynda for her valued contribution over the last seven years with the group and wish her the very best for the future. This change provides the opportunity to appoint a new full time office-based chief financial officer, which forms part of our core strategy to deliver our plan of opening 200 stores." Sherratt added: ""I have thoroughly enjoyed my seven years with the Crawshaws business and I am very pleased with what we have achieved over this time. I think the end of this year is the right moment for me to move on and hand over responsibility to a new chief financial officer, who is able to be in the business five days per week at this critical time to help deliver the exciting growth plans ahead."