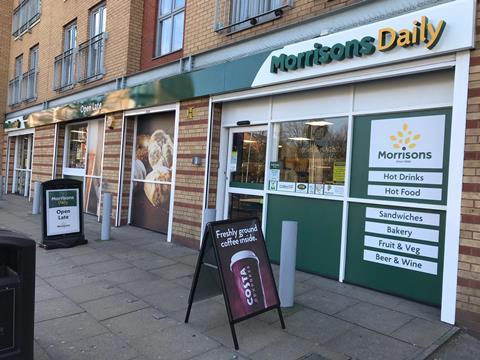 Top story
Embattled McColl's Retail Group has agreed an extension with wholesale partner Morrisons to convert a further 100 of its stores to the Morrisons Daily fascia.
The retailer will now convert 450 stores to the new format and expects to complete the transformation by November 2022 - the same timeframe as the previously announced 350 conversions.
It comes after the group issued another profit warning earlier this month as supply problems hit revenues in the final quarter of the year.
McColl's said Morrisons was extending its support and increasing its contribution to the enlarged conversion programme.
McColl's opened its 100th Morrisons Daily store earlier this month, with the conversion programme ahead of schedule.
Morrisons Daily stores offer a higher grocery mix and wider product choice than the current McColl's estate, which the group said drove enhanced customer spend, frequency and loyalty.
CEO Jonathan Miller added: "Within 12 months we will have 450 stores open and trading as Morrisons Daily, representing over a third of our total community store estate and over half of our sales.
"These stores have a higher grocery mix and wider breadth of product choice, which is great for our customers, and with strong sales growth and better return on investment, it is great for the company too.
"We look forward to continue working closely with Morrisons in the years ahead."
McColl's also said it had reached an agreement to defer a financial covenant test due on 28 November until 31 December, allowing the company time to "work constructively" with its lending banks to arrange support for 2022.
The group will publish a full-year trading update on 8 December for the 12 months ended 28 November.
Shares in McColl's - which crashed 30% on this month's profits warning - climbed 1.7% to 12.2p this morning, but is still down 53% so far this year.
Morning update
A recovery at Irn-Bru maker AG Barr has continued to gather momentum as the return of the on-the-go market pushed profits higher than expected.
In an unscheduled trading update, the group said sales have grown ahead of expectations across both the Barr Soft Drinks and Funkin divisions.
The performance in the out-of-home and hospitality channeles remained "particularly strong" and recent innovation launches exceeded expectations.
"In what remains a challenging supply chain environment, our production and wider supply chain have maintained their resilience and supported the growth in volume we are experiencing," the statement said.
Thanks to the strong volume performance - and despite the ongoing short-term operating cost pressures - revenues and profits for the full year will be ahead of current forecasts, with sales expected to be around £264m and pre-tax profits of £41m.
"The fast moving situation in relation to the Covid-19 pandemic remains a risk. However, we expect our revenue momentum to continue into 2022 and we plan to provide a further trading update in early February 2022," AG Barr added.
Shares in the soft drinks supplier jumped 4% to 486.5p as markets opened.
The FTSE 100 rebounded this morning following the market crash on Friday. Despite the uncertainty in the markets caused by the new Covid variant, London's blue-chip index opened 0.9% higher this morning at 7,108.15pts.
A number of shares in the grocery sector climbed higher as markets rallied, wtih Bakkavor Group up 4.1% to 127.6p, WH Smith up 3.7% to 1,359p and Compass Group up 3.8% to 1,508p.
Early fallers included Glanbia, Just Eat Takeaway and THG, down 5.8% to €11.31, 1.4% to 5,015p and 1.1% to 185.2p respectively.
This week in the City
Markets look much quieter this week, with little in the way of company news.
Tomorrow is looking like the busiest day, with convenience food supplier Greencore to post full-year results. The food-to-go specialist announced last week that long-time CEO Patrick Coveney will be jumping ship in March to take charge at SSP Group.
Tuesday also brings preliminary results from drinks ingredients group Treatt and pub group Marston's.
The latest FTSE quarterly index review is announced on Wednesday evening, with M&S looking like it will miss out on a return despite a recent rally.
Thursday brings a quarterly update from US grocer Kroger - one of Ocado's main overseas retail partners.