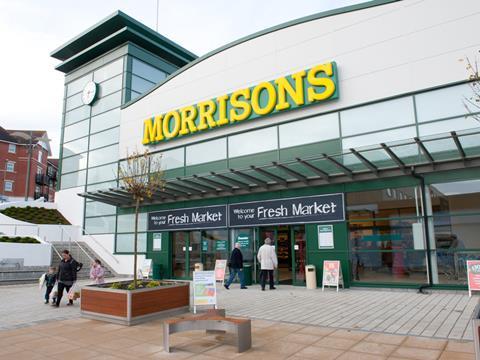 Top story
Morrisons (MRW) saw like for like sales rise by 0.2% (ex fuel) in the nine weeks to 3 January, topping analyst expectations for its festive trading.
Total sales excluding fuel were down 1.2% (down 1.7% including fuel) given the supermarket's measures to trim its store estate during the year. Sales contribution from net new space was -1.4% following the disposal of 140 M Local stores and supermarket closures.
Morrisons said the number of transactions during the period was 1.3% up year on year in core supermarkets and online sales grew by almost 100%.
By its own measures, Morrisons said its efforts to cut prices drove deflation (ex fuel) of 3.2% year on year and 7% on a two year basis.
Morrisons also announced this morning it will close a further seven supermarkets and that its end of year net debt is expected now to by £1.65bn-£1.8bn, down from a previous guidance of £1.9bn-£2.1bn. Andy Atkinson has also been named as group marketing and customer director, having previously held the role on an interim basis.
Chief executive David Potts said: "We are pleased with our improved trading performance over the Christmas period. While there is of course much more to do, we are making important progress in improving all aspects of the shopping trip, and our customers tell us they are pleased with the changes. In addition, we have made further progress in debt reduction, and our financial position is strong and getting stronger."
Morrisons shares surged by 10.6% to 168.5p this morning in early trading on the news - their highest point since the first week of November. The shares had fallen as low as 138.6p in the run-up to Christmas as the supermarket fell out of the FTSE 100.
Morning update
Also fresh out this morning are the latest grocery share figures from Kantar Worldpanel for the 12 weeks ending 3 January 2016.
The data shows no Christmas uplift for the British grocery market as sales fell by 0.2% on last year thanks to continuing price deflation. However the discount retailers, Waitrose, the Co-operative and Sainsbury's (SBRY) successfully grew ahead of the market and were the share winners over Christmas.
Sainsbury's was the best performing of the traditional supermarkets, with sales increasing by 0.8% on last year. Tesco's (TSCO) sales fell by 2.7% during the period, Morrisons' by 2.6% and Asda by 3.5%, while Waitrose saw a 1.5% sales lift.
Fraser McKevitt, head of retail and consumer insight at Kantar Worldpanel, said: "Wednesday 23 December was the single biggest shopping day of the year, but the anticipated uplift from an extra day in the week before Christmas didn't help the supermarkets overall. Consumers simply delayed their shopping trips later this year, rather than making any extra trips."
Figures this morning from the British Retail Consortium and KPMG said that UK retail sales rose by 0.1% on a like-for-like basis over the Christmas period and 1% on a total basis in December. Total food sales grew 0.2% over the three months to December and 0.3% over the twelve months, while non-food sales were up 1.5% on a three month basis, the weakest growth since January 2013. Total growth was above the 3-month average of 0.9% but weaker than the 12-month average of 1.7%.
David McCorquodale, Head of Retail, KPMG, said: "The grocers had a fairly admirable Christmas with total food and drink sales back in the black for the first time since September in spite of the persistent price deflation in the sector."
Joanne Denney-Finch, Chief Executive, IGD, added: "Shoppers took Christmas food and drink spending even closer to the wire, but despite lower prices eventually came through to deliver a small annual increase. People have become experts at hunting down value, benefiting from more ways to shop in-store and online, but will treat themselves when offered the right combination of convenience, price and quality."
Elsewhere, Greggs (GRG) has updated the market on its fourth quarter performance, with sales growth slowing after a stellar year. During the fourth quarter, Greggs saw company-managed shop like for like sales up 2.3%, meaning full year company-managed shop like for likes were 4.7% up. Total sales for the year were up 5.2% against comparable 52 weeks in 2014 with 122 new shops opened in the year and 74 closures. Greggs also completed 202 refits completed in 2015, plus 20 conversions of larger bakery cafés.
Chief Executive Roger Whiteside commented: "2015 saw us deliver another excellent year of progress as we continue to transform Greggs into a modern, well-invested food-on-the-go retailer. We anticipate that we will report full year results for 2015 in line with our previous expectations. In the year ahead we will continue with the implementation of our strategic plan to enable the business to compete more effectively in the food-on-the-go market."
Private label household goods manufacturer McBride (MCB) has issued a trading update for the six months ended 31 December 2015. Group revenues increased by 0.4% on a constant currency basis when compared to the first half of last financial year. It said that profits are benefiting from actions associated with business simplification, streamlining and cost initiatives. "As a consequence, first half year underlying trading results will show further overall progress, in particular when compared to the first half of last financial year," the group stated.
The FTSE 100 has rebounded 0.5% this morning to 5,899.5pts after a dreadful start to 2016 so far.
Morrisons and the Kantar data has helped lift the food retail sector, with Tesco up 5.5% to 153.5p, Sainsbury's up 3.4% to 251.5p and Ocado up 3.4% to 268.2p. B&M European Value Retail (BME) is also up 3.1% to 255.3p and Poundland (PLND) is up 2.8% to 171.3p.
The gloss has come of Greggs - one of the star performers of 2015 - this morning, with the shares down 8.1% to 1,126p on the slowed fourth quarter growth.
McBride is 4.5% up to 156.5p after its own trading update this morning.
Yesterday in the City
The City had a slightly downbeat start to the week after last week's China-driven market collapse – with the FTSE 100 falling another 0.5% to 5,885.7pts after yet another fall on the Chinese stock exchange last night.
Most of the larger fmcg/grocery firms escaped the day relatively unscathed – with Morrisons rising 0.5% to 152p ahead of this morning's Christmas trading updates. Also up were British American Tobacco (BAT), up 0.7% to 3,658p, Coca Cola HBC (CCH), up 0.6% to 1,410 and Sainsbury's up 0.6% to 243.4p.
In a sign investors feared Tesco would post disappointing Kantar figures this morning, the UK's largest supermarket slipped 1% to 145.5p.
There were also heavy falls for Ocado, down 6.2% to 276.8p, and soft drinks firm Nichols, down 9.3% to 1,220p, while McBride (MCB) fell 5.7% to 149.8p and Booker slipped 2.9% to 171.8p.
Eslwhere, Majestic wine (MJW) was up 2.9% to 367.5p, Real Good Food (RGD) up by 2% to 50p and Fevertree Drinks (FEVR) continuing its remarkable share price rise, climbing another 1.7% to 620.5p.