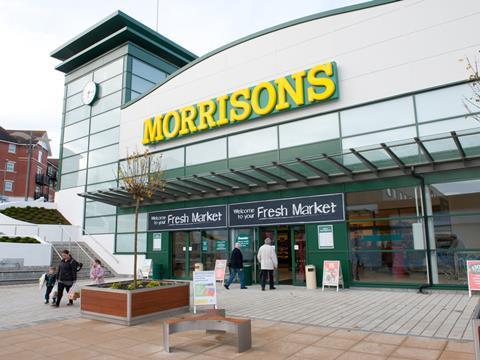 Top story
Third quarter like-for-like sales (ex fuel) at Morrisons (MRW) fell by 2.6% in the 13 weeks to 1 November.
Total sales were down 2% excluding fuel and 4.6% including fuel, while like-for-like sales including fuel dropped 5.1%.
Chief executive David Potts said: "The business is moving at pace on the long journey towards improving the shopping trip for customers. Our priorities for the rest of the year are unchanged - to stabilise trading, reduce costs and further improve the capability of the leadership team. We are making good progress in many areas and customers are noticing improvements."
Morrisons said the results represented "good progress during the quarter against many aspects of our plan".
It said customer satisfaction scored were "materially" higher than last year and it continued to invest in lower prices, meaning deflation for the period was 2.2%. It also cut back on vouchering, which impacted year-on-year third quarter sales by 2.4%.
After the recently announced closure of 11 supermarkets and sale of 140 M local stores, 2015/16 net new space sales growth will be around 0.5% and it expects underlying profit before tax to be higher in the second half of 2015/16 than the first.
Morrisons shares are down 3.5% to 171.3p in early trading on the news, but had risen sharply yesterday (see below)
Morning update
It's a busy morning on the markets with a number of grocery firms issuing trading updates.
Dairy Crest (DCG) has reported a 5% fall in revenues (from ongoing operations) to £203.8 in the six months to 30 September. Its milk business that it has now sold to Muller saw a post tax loss of £16.7m (up from a £2.5m loss last year), but it made a pre-tax profit from ongoing opperations of £13.1m (down from £15m). It reported strong first half performance from Cathedral City (sales +7%) and Frylight (sales +37%), while overall sales of its four key brands in line with last year despite deflationary environment.
Mark Allen, chief executive, said: "The sale of our Dairies operations leaves Dairy Crest well positioned for long term profitable and sustainable growth alongside strong cash generation. Following the sale of our Dairies business, Dairy Crest will be a predominantly branded, simpler, more focused business with a significantly reduced overhead base. Future sales of ingredients for infant formula, which will start in the second half, will provide added impetus."
Tate & Lyle has "performed solidly" in the first half of the year to 30 September, with adjusted operating profit in line with its expectations and ahead of last year. Sales decreased by 2% (6% in constant currency) to £1.18bn, but adjusted operating profit was 22% higher (12% in constant currency) at £100m. Adjusted profit before tax up was 28% (18% in constant currency) at £103m, while on a statutory basis, profit before tax on continuing operations increased by £7m to £70m.
Javed Ahmed, chief executive, said: "We have made an encouraging start to the year. Speciality Food Ingredients performed well as volume momentum built throughout the first half, as anticipated, and our new products targeted at the health and wellness space grew strongly. Bulk Ingredients performed steadily despite the impact of sharply lower ethanol margins. Overall, with our change programmes progressing as planned and executional disciplines strengthening across the business, we remain on track to deliver the guidance for the full year we set out in May, and for future growth."
Bottling firm Coca-Cola HBC (CCH) has issued a Q3 trading update, which said volumes have gathered momentum with 5.4% growth in the third quarter. It said the initiatives that delivered good growth in the first half were further helped by good weather and favourable comparatives in parts of our footprint. Established markets volumes bounced back well into growth territory in the quarter, particularly in Italy and Austria, while developing markets continued to generate very good volume growth, led by Poland and Hungary.
Meat packing firm Hilton Food Group (HFG) has delivered a trading update for the period from 13th July 2015 to date. In Western Europe, it has continued to deliver "good" volume growth, with the UK benefitting from the recent capacity expansion and also with start-up costs lower than anticipated. In Holland, its business also continues to perform well, in Sweden, it is encouraged by the cost performance arising from the upgraded production lines, but Denmark remains slow "Overall, trading has been slightly above the board's expectations", it said.
The FTSE 100 has opened 0.5% down this morning at 6,382pts.
The best received of this morning's updates was Tate & Lyle, which is up 3.1% to 615p so far this morning.
Dairy Crest is down 1.2% to 635.5p, Hilton Food Group is down 3.7% to 460p and CCH is down 2.2% to 1,553.8p.
Yesterday in the City
Despite the gloomy forecasts Marks & Spencer (MKS) shares shot up 2.8% yesterday to 535p after it reported a 1.4% increase in sales to £5bn thanks to continued food sales growth and better than expected general merchandise performance.
M&S' robust food sales performance (0.2% up on a like-for-like basis in the second quarter) helped the rest of the supermarket sector surge.
Morrisons was the FTSE 100's second biggest climber ahead of its third quarter trading update this morning, rising 3.9% to 177.5p. Sainsbury's (SBRY) was up 2.8% to 277p, Tesco (TSCO) rose 2.2% to 188.7p and Ocado (OCDO) was also up 3.3% to 397.3p.
The retailer rally helped the overall the FTSE 100 rise 0.3% to 6,383.6pts.
Also on the rise was Fevertree Drinks (FEVR), which surged 17.7% to hit record highs of 510p after announcing it expected full-year performance to be head of expectations.
Irish ingredients firm Glanbia (GLB) fell 2.7% to €17.25 after reporting that revenues were up by 9% in the first nine months of the year, mainly driven by the global performance nutrition division.