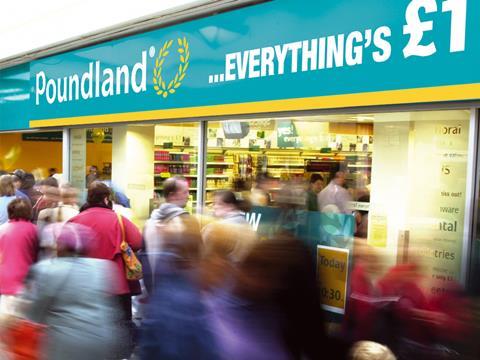 Top story
Poundland (PLND) achieved an 11.8% revenues boost in the 12 months to 28 March with sales, excluding its Spanish trial, reaching £1.1bn.
The 11.8% growth on a constant currency basis was slightly lower than the 12.7% achieved in its previous financial year and represents 2.4% like-for-like growth. Total revenues, excluding Spain, increased by 11.4% (13.3% last year) to £1.11bn.
The slower rate of growth is partly attributable to a slower rate of store openings last year, with Poundland opening ten fewer stores than in the previous year.
A slower rate of store openings hit also its fourth quarter sales growth, which increased by 7.1% on a constant currency basis against 13.9% in the fourth quarter last year. On a reported basis sales, again excluding Spain, were up 6.5% (against 14.4% in the 2014 financial year).
Chief Executive Jim McCarthy, said: "Despite tough trading conditions, Poundland continues to perform well and we served an average of 5.3 million shoppers a week during the quarter.
"We have managed our costs and cash well, and we expect underlying pre-tax profits to be in line with market expectations for the year as a whole… We expect to continue to deliver our growth strategy in the new financial year, notwithstanding some headwinds from a weaker Euro and a tough comparable in the first half."
Poundland added little to its previous statement that it is considering the UK Competition and Markets Authority's intention to scrutinise its 99p Store acquisition in more detail.
Shore Capital Clive Black said this morning: "Whilst so, it is fair to say that Poundland has faced some headwinds in Q4 FY2015 that have temporarily held back its top-line progress with management describing current trading conditions as 'tough'. Aside from well versed challenging comparatives, the group has continued to open stores later in the period than previously anticipated".
Morning Update
Poundland is up 2.7% to 340.9p in early trading after its healthy sales growth revealed this morning.
This morning's BRC-KPMG retail sales monitor has found that UK retail sales increased by 3.2% on a like-for-like basis during March. On a total basis, sales were up 4.7%, against a 0.3% fall in March 2014. Adjusted for the BRC-Nielsen Shop Price Index deflation, total growth was 6.8%. The figures are flattered by the inclusion of Easter in March this year against April last year.
There's an exec committee reshuffle at SABMiller (SAB), with Tony van Kralingen, group director of integrated supply and human resources, announcing his intention to retire at the end of 2015. SABMiller will split his role into two new positions on the exec team and has started "international searches" to fill the posts. Van Kralingen has served in a number of roles, including chairman and MD of SAB Ltd, since joining the group in South Africa in 1982.
Elsewhere on the stock market this morning, there was an early rebound for M&S (MKS), which is up 0.5% to 570p following yesterday's falls. Associated British Foods (ABF) has opened 1.2% down at 2,954p.
Yesterday in the City
If Majestic Wine's (MJW) takeover of Naked Wines received a frosty initial reception from investors, the City seems to have been won round. Its shares plunged as low as 284p following the announcement, but were 10% up yesterday to 355.7p by close.
Carr's Group (CARR) shares were also on the move yesterday, rising 6.1% to 147p after the agriculture and milling group increased pre-tax profits by 5.4% to £10.6m despite its revenues dipping 2.8%.
However, elsewhere it was a largely downbeat day for the sector. The FTSE 100 fell 25.5pts to 7064.3pts partly on weaker than forecast economic figures from China.
One of the day's biggest fallers was Tesco (TSCO), which was down 2.7% to 244.3p. The fall looks driven by fears that Tesco's improving share price and trading so far in 2015 might encourage it to take more radical action to sure up its balance sheet, such as a rights issue, when its full-year results are announced on 22 April.
The other supermarkets also eased back, with Morrisons (MRW) down 1% to 200.2p and Sainsbury's falling 0.9% to 274.9p.
British American Tobacco (BAT) was down 2.5% to 3,622.9p, while M&S (MKS) fell 1.7% to 565.8p.