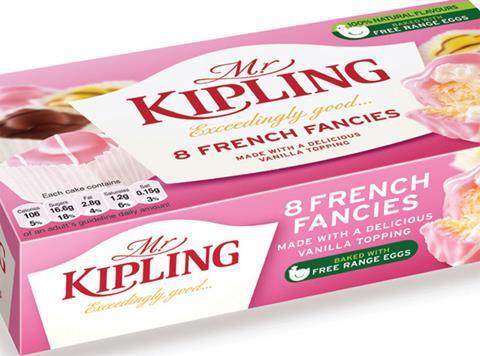 Top story
Activist investor Oasis Management is set to further build its stake in Premier Foods (PFD) after entering a customary relationship agreement.
Daniel Wosner, MD and head of Europe at the international investment firm, has joined Premier's board as a non-executive director. Before joining Oasis in 2016, Wosner held senior investment banking roles at Barclays and Lehman Brothers.
The Hong Kong-based hedge fund, which has $1bn assets under management, is already the second biggest shareholder in Premier, behind Japan's Nissin.
It raised its holding several times last year – to 3% in July, 4% in early October and 5% by the end of that month – and currently owns more than 7% of shares after taking advantage of a slump in price in January.
Under the terms of the new relationship agreement, Wosner will be appointed to the remuneration committee of the board; Oasis will acquire in aggregate 10% of the ordinary share capital of the company by 30 June 2018; and Oasis is to hold a minimum of 7% and a maximum of 15% shareholding in Premier during the agreement.
"Oasis will not make any public statements or announcements in respect of Premier which might damage the reputation of Premier," the terms added.
Premier chairman David Beever said: "We are pleased to welcome Daniel Wosner of Oasis to the board as a non-executive director and look forward to working with him to drive the company's long-term value and enhance value for all shareholders. Daniel's perspective and experience will be a valuable addition to the team as we continue our effort to maximise the potential of our category leading brands, strong customer partnerships and supply chain expertise."
Wosner added: "We appreciate the constructive engagement that we have had with Premier Foods chairman David Beever and the executive leadership team, and I welcome the opportunity to join the board. I look forward to working with chief executive officer Gavin Darby, and his colleagues to achieve the full potential and value from the company's outstanding brand portfolio."
Seth Fischer, chief investment officer and founder of Oasis, said: "We have followed Premier Foods for several years and are optimistic about the long-term prospects of the company. As significant investors, we are fully committed to building long-term value for all shareholders."
Premier was the subject of a failed takeover pursuit by US spice manufacturer McCormick last year. The management team, led by Darby, fought off the 65p-a-share approach in favour of a tie-up with noodle maker Nissin, which owns about 20% of the business.
Shares in Premier are up 1.3% this morning to 40p.
Morning update
Food inflation is back as prices edged up 0.4% in February, the first jump recorded since April 2016, according to the latest data from BRC and Nielsen. The shop price index showed overall shop prices reported deflation of 1% last month – a sharp deceleration from the 1.7% fall in January as a result of the rising food prices. Food inflation in February compared with an 0.8% fall in the previous month. Fresh food reported a marginal inflation rate in February, up 0.1% from the 1.2% fall in each of the previous three months; ambient food reported annual inflation for the second time in three months, rising 0.8% in February from the 0.2% decline in January.
"Whilst food inflation has returned, the competition between retailers means that price increases passed onto consumers in February were relatively small, and there were also some seasonal and weather related increases," said Mike Watkins, head of retailer and business insight at Nielsen.
"Non-food prices remain deflationary and in part this reflects the structural change underway in non-food retailing. At the moment consumer sentiment around spending intentions is strong so we don't anticipate any significant change on retail spend over the next few months even if shop price inflation gains more momentum."
It is in keeping with findings from The Grocer Price Index, which has been pointing to the creeping threat of inflation for many months. The latest GPI revealed that the persistent deflation that has slammed the grocery industry ended last month after more than two-and-a-half years of falling prices. Collated by Brand View from more than 60,000 SKUs, it found prices across the big four in the month to 1 February were the same as they were in the corresponding month last year, marking the first time year-on-year grocery prices have not fallen for 32 months.
Tesco was the only member of the big four supermarkets still fighting against inflationary pressures as it looked to keep its fragile recovery on track, with its prices still down 1% year on year.
The ONS also announced last month that inflation hit its highest rate for two-and-a-half years, driven by the slowdown in falling food prices since the EU referendum and rising fuel costs at the pumps.
It follows Kantar Worldpanel recording price rises at Christmas for the first time since 2014, which have continued into the new year, with like-for-like inflation on a basket of everyday groceries climbing to 0.7%. The market research group said if prices continued to rise at the same rate for the rest of 2017, shoppers would find themselves around £27 worse off.
AG Barr (BAG) is planning to accelerate its sugar reduction programme. The owner of Irn-Bru, Rubicon and Strathmore promised that more than 90% of its company-owned soft drinks portfolio by volume will contain less than 5g of total sugar per 100ml by the autumn of this year. CEO Roger White said: "Evidence shows that consumers want to reduce their sugar intake while still enjoying great tasting drinks. We've responded by significantly reducing sugar across our portfolio in recent years, through reformulation and innovation.
"Today's announcement builds on this progress and we are now expanding our successful sugar reduction plans to include our iconic Irn-Bru brand. We've worked hard to deliver Irn-Bru's unique great taste, using more of the secret Irn-Bru flavour essence, but with less sugar."
Shares nudged up 0.4% in the business to 523p.
Profits fell 43% at Ahold Delhaize in the fourth quarter to €144m after it was hit by exceptional charges related to the merger of the two companies, as well as other restructuring costs.
Net sales leapt 55% to €15.1bn, reflecting the newly enlarged group. Pro forma sales in the fourth quarter were up 2.8% at constant exchange rates.
Revenues in 2016 rose 30% to €49.7bn, with operating profits up 20% to €1.6bn and net income dipping 2.5% to €830m.
CEO Dick Boer said: "2016 was not only a year where we brought together two strong food retailers. It was also a year in which our great local brands drove solid performance, serving our customers both in stores and online.
"I am very pleased with the financial results in the fourth quarter with volume growth and strong margins, while making good progress implementing our Better Together strategy which we announced in December. Our teams are working hard on the integration, leveraging best practices and realizing synergy targets."
Yesterday in the City
Greggs (GRG) was one of the big fallers yesterday down 3.3% to 978p despite another set of strong annual figures, with revenues up 7% to £894.2m. The stock was down more than 3% at points during trading after the food-to-go retailer warned rising ingredients and labour costs would squeeze profits in 2017.
Associated British Foods (ABF) bounced back after falls on Monday, with shares up 1.4% to 2,622p. SSP Group (SSPG), Marks & Spencer (MKS) and Compass Group (CPG) were all among the risers, up 2.1% to 416.6p, 2% to 335.6p and 1.6% to 1,500p respectively.
Irish ingredients firm Glanbia (GLB) jumped 5% to €18.5p after big rises last week following its latest annual results and news it was selling off 60% of its Irish dairy business to Glanbia Co-op.
Tesco (TSCO) and Morrisons (MRW) both lost ground, nudging down 0.4% to 188.4p and 0.3% to 243.1p. Value meat retailer Crawshaw's (CRAW) woes continued, with the stock tumbling 5% to 15.4p.
A cautious FTSE 100 edged up 0.1% to 7,263.44 points ahead of a speech from President Donald Trump to Congress.