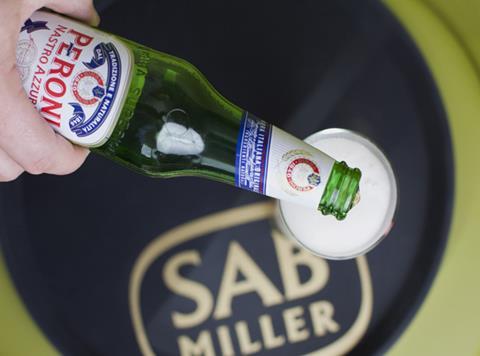 Top story
Takeover target SABMiller (SAB) has talked up its strengths as a global brewer and highlighted its "exceptional long-term prospects" in a trading update this morning.
The Peroni and Grolsch brewer, which is currently being circled by rival AB InBev, increased revenues 4% in the six months to 30 September as volumes grew 1%. Growth accelerated in the second quarter with group net producer revenue (NPR), which excludes excise, and beverage volume growth of 6% and 2% respectively for the period.
CEO Alan Clark issued a bullish statement alongside the figures – a sign that its suitor may need to up its offer price if it is to land the target.
"Growth accelerated in the second quarter of the year, underpinned by our unmatched footprint in the growing beer markets of the world," he said. "We continued to drive strong growth in Africa and Latin America, applying our deep local expertise to markets with favourable long-term structural growth dynamics. Particular highlights were our very strong lager volume growth in these regions, together with double digit net producer revenue growth in the second quarter in Africa."
However, SAB felt the effect of FX headwinds as the key currencies it trades in continued to depreciate against the US dollar leading to a 9% decline in reported group NPR for both the half and the second quarter.
Clark added, in comments seemingly addressed to AB InBev: "While adverse currency movements have materially impacted our reported results, we have a strong business with exceptional long-term prospects. Our strategic priority of driving superior top-line growth through strengthening our brand portfolios and expanding the beer category is showing clear results."
SAB brought forward its first-half trading update as it is required to make "timely" updates to the market while it is subject to the takeover code.
Morning update
Greggs (GRG) has increased like-for-like sales in its third quarter slightly ahead of its own expectations. In the 13 weeks to 3 October, like of likes grew 4.9%, a slight slowdown from the 5.2% rise in the same quarter a year ago. It means like-for-like sales have increased by 5.6% in the year to date, with total sales up 5% in the quarter and 5.1% for the first nine months. "Product initiatives across the day combined with our great value deals continue to drive increased customer visits and transaction values," the high street baker said. "The extension of our 'Balanced Choice' range to include improved own-label drinks with no added sugar has proved popular with customers." Greggs has opened 65 new shops and closed 47 so far 2015, giving it an estate of 1,668 sites. "Our sales performance is slightly ahead of our previous plan and, whilst comparatives will stiffen further in the fourth quarter, sales will benefit from additional shop openings. As a result we expect to deliver good growth for the year, slightly ahead of our previous expectations, and further progress against our strategic plan."
Shares in Greggs shot up (as is the norm following its market announcements) when the markets opened this morning. The stock is up 6.5% to 1,146p.
SAB shares opened 1.6% at 3,703p down after its bullish trading update, but are still more than 25% higher than before the interest of AB InBev was confirmed.
Yesterday in the City
The UK's listed grocers continued last week's good run as investor worries about the sector seems to have cooled.
Tesco (TSCO) climbed 3.7% to 186.6p ahead of its half-year results tomorrow. Although profits are set to plunge, the decline in sales is expected to have slowed. It follows Sainsbury's CEO Mike Coupe saying the price war had taken a "pause for breath" last week when he unexpectedly sprang a profits upgrade on the City. Tesco's shares are up more than 11% in the past five days and getting close to the levels it sat at a month ago.
Morrisons (MRW) jumped another 3.7% to 168.2p as David Potts confirmed the scrapping of the Match & More price matching scheme in favour of a loyalty card. The retailer's stock is also up almost 9% in the past week.
Finally, Sainsbury's (SBRY) is also up 2.8% to 266.6, a rise of 17.2% since its Q2 trading update last Wednesday.
Online rival Ocado (OCDO) rode the crest of the wave to climb along with the traditional supermarkets. Its share price climbed 3.6% to 334.8p after it announced it would create almost 2,000 permanent jobs before Christmas.
Outside of the supermarkets, drinks giant Diageo (DGE) was up 1.5% to 1,809.7p as it revealed it had appointed Xerox's Kathryn Mikells as CFO.
The FTSE 100 also had a good day, bouncing back 2.8% (169 points) to 6,298.9 points thanks to the gains of the retailers and also a surge in the price of mining giant Glencore.