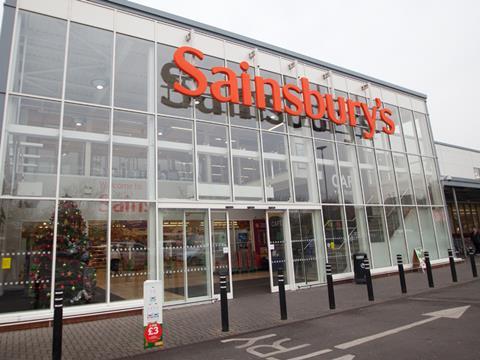 Top story
Any notion that Sainsbury's (SBRY) more upmarket offer had immunised it from the price war were put to bed this morning as the supermarket announced a 1.9% fall in fourth quarter like-for-like sales.
Sainsbury's had a reasonable Christmas, but the market had been braced for a 3%-plus like-for-like slump during the quarter. Trading in the 10 weeks to 14 March was actually slightly better than CEO Mike Coupe had guided in January when he predicted a 2.1% like-for-like fall. Total sales were 0.3% down and 2.7% down including fuel (down 3.9% like-for-like including fuel).
Coupe admitted that the market "remains challenging and the decision we have taken to improve our competitiveness are reflected in our quarterly performance".
He highlighted its £150m price investment and 1,100 prices lowered since November, noting that sales volumes and like-for-like transactions have also increased – though it does not supply the numbers to back-up the claim. The supermarket did say that it saw an average uplift of over 3% on the 1,100 products that have been reduced in price.
Life is going to remain tough for the grocers in 2015, Coupe said, warning: "Food deflation is likely to persist for the rest of this calendar year, and competitive pressures on price will continue."
Sainsbury's shares rose 1.9% in early trading to 273.6p primarily on investor relief that the like-for-like sales drop was not worse.
Morning Update
2 Sisters Food Group owner Boparan has announced a 1.6% fall in second quarter like-for-like revenues this morning.
"Price deflation continues and volumes are generally lower," the chilled foods manufacturer said. Like-for-like sales fell to £807.3m, while adjusted operating profit edged down slightly to £13.1m. Total sales were 6% down, reflecting the disposal of its Corby and Avana businesses.
There was slightly better news for its chilled division, with Ranjit Singh, CEO of 2 Sisters, commenting: "A year ago, our Chilled division's profitability was impacted by the aftermath of horsegate. I am pleased to report that a year on, we are making steady progress, with like-for-like sales up 2.9% and another quarter-on-quarter improvement in operating profit."
In terms of share news, along with Sainsbury's early rise – the rest of the market looks to have carried on where it left off yesterday with most of the FTSE 100 grocery-related stocks on the up.
Diageo (DGE) is 2.1% up at 1,933.5p in early trading, while there have been gains for GlaxoSmithKline (GSK) (up 0.7% to 1,587.5p), Imperial tobacco (IMT) (up 0.4% to 3,182p) and Unilever (ULVR) (up 0.3% to 2,895p)
Yesterday in the City
The Monday morning announcement that the government has launched a "radical" review of business rates sent retailer shares sky-rocketing yesterday.
Sainsbury's was one of the FTSE 100's top risers ahead of its Q4 trading update, climbing 4.2% to 269.9p, and Tesco (TSCO) was not far behind after gaining 3.7% to 241.4p.
Marks & Spencer (MKS) was also boosted by the rates review (up 2.5% to 506p), while Next and Kingfisher also saw strong gains.
It was a good day all round for the FTSE, which rose just under 1% to 6804pts. The global fmcg firms also enjoyed a strong day, with Associated British Foods (ABF) up 2.1% to 3,048p, Diageo up 1.6% to 1,893p and Unilever gaining 1.4% to reach 2,886p.
On the downside, Stevia producer PureCircle fell 5% to 515p after reporting a net loss for the second half of 2014, while Ocado (OCDO) was 4.5% down to 370.9p.