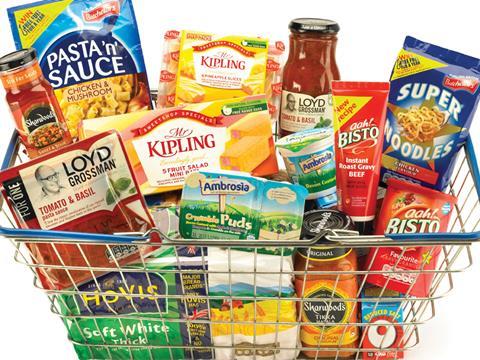 Top story
Premier Foods (PFD) recorded group sales growth of 0.1% in the 13 weeks ended 2 January, but branded sales fell 1% as its grocery division struggled.
The results represent a slowdown of sales progress from the first half the year, bringing group sales growth for the first nine months down to 0.3% and branded sales down to a decline of 0.4%.
Sweet Treats sales were up 6.5% reflecting its Cadbury innovation programme, but Q3 Grocery sales were down 2.7% in the quarter – well below the 0.9% decline seen in the first nine months of the year.
International sales were up 9.8% at constant currency.
Chief exec Gavin Darby said: "Our third quarter Group sales performance was solid, particularly against the background of a broader food sector where top-line growth was negative.
"While we are encouraged by the results of our innovation programme to date, Grocery sales were held back in the quarter due to an unexpectedly mild December and a decision to reduce promotional activity of Ambrosia.
"We have a strong innovation programme in place for the fourth quarter and our profit and Net debt expectations for the full year remain unchanged."
Premier Foods also said it has withdrawn from its £80m securitisation programme following its April 2014 capital refinancing to simply its capital structure.
Morning update
Also this morning, there is also a trading update from SABMiller (SAB) as its planned merger with ABInBev rumbles on in the background.
Group NPR declined by 8% for the quarter and by 9% for the year, which SAB blamed on the impact of currency fluctuations and the "continued depreciation of our key operating currencies against the US dollar". Group NPR for the third quarter grew by 7%, based on volume growth of 4% and price and mix realisation of 3%. Lager volume growth accelerated during our financial year to 3% in the quarter, underpinned by growth of 7% in Latin America and 6% from its subsidiary businesses in Africa. Premium lager brand volumes grew by 4% and volumes of its global lager brands increased by 8%.
Chief exec Alan Clark said: "Our reported results are materially impacted by the significant depreciation of our key operating currencies against the US dollar but the underlying performance we are reporting today reflects the strength of our business and the dedication of our people."
"This was a very strong quarter with volume growth of 4% and group NPR growth of 7%. Group NPR growth was held back by headwinds in our associates' and joint ventures' major markets and continued industry trends in the USA.
The FTSE 100 has begun its long road back after yesterday's plunge, rising 0.3% in early trading this morning back to 5,691.4pts after better overnight trading in Asia.
However, Premier Foods has dropped 6.7% to 36.6p this morning after its third quarter sales slowdown, while SABMiller is flat (down 0.1%) at 4,118.5p.
Diageo is one of the sector's major movers this morning, up 1.5% to 1,804.5p, while Ocado (OCDO) has jumped another 5.1% to 278.5p this morning, Poundland (PLND) is up 2.6% to 148.7p and WH Smith has gained another 2.1% to 1,715p after yesterday's surge.
Yesterday in the City
Global stocks were savaged yesterday as the FTSE lost more than 200 points to drop 3.5% in the day to 5,673.6pts – its lowest level since 2012.
The falls, triggered by a stock market collapse in China, wiped more than £50bn off UK share prices and officially plunged the FTSE into a "bear" market for the first time since 2008.
Unsurprisingly grocery and fmcg stocks were caught up in the great sell-off, though they were far from the day's worst performers, with mining and financial firms absorbing the worst hits.
Amongst those FTSE 100 grocery firms most affected were Coca Cola HBC (CCH), down 3.5% to 1,341.9p, Associated British Foods (ABF), down 2.9% to 2,922p, and Diageo (DGE), down 2.8% to 1,777.5p.
The supermarkets felt also felt the brunt of the falls, with Sainsbury's (SBRY) falling by 2.6% to 232.9p, Marks and Spencer (MKS) down by 2.5% to 411.2p and Morrisons (MRW) down by 2.3% to 154.7p.
There were also big falls at Nichols (NICL), down 5.1% to 1,122.3p, Booker Group (BOK), down 4.5% to 149.4p and Greggs (GRG), down 4.1% to 970p.
Bucking the trend was WH Smith (SMWH), which saw its shares jump by 5.8% to 1,680p despite the wider market falls yesterday after surprising the market with stronger Christmas sales than expected, including a strong rise in like for like high street sales.
Also defying the market were McColl's Retail Group (MCLS), up 2.2% to 142p, Tate & Lyle (TATE), up2.1% to 603.1p and ahead of this morning's update Premier Foods, up 1.7% to 39.2p.