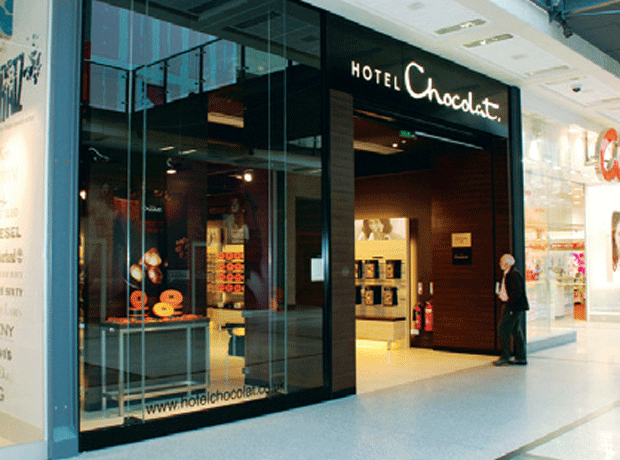 Top story
Hotel Chocolat (HOTC) sales leapt 16.2% in the 13 weeks to 25 December as customers spent more money on higher priced gifts for Christmas.
The luxury chocolatier said this morning in its first Christmas trading update as a listed company that the rise (14.6% on a constant currency basis) was driven by driven by increases in footfall and items per basket. It added that customers also chose to buy more higher-priced gift items.
The retailer opened 10 new stores during the six months ended December, and now has 90 sites in the UK. Seven of the new stores included a café offering Hot Chocolat, coffee-chocolate and light cocoa infusions drinks.
The digital business also registered similar momentum, launching a new website in January, including optimisation for smartphones and tablets, a bespoke 'gift creator' service for delivered gifts and better integration of the tasting club subscription service.
Hotel Chocolat said trading since December continued to be in line with management's expectations.
CEO Angus Thirlwell added: "The growing strength of the Hotel Chocolat brand has enabled us to perform well. Our seasonal ranges included many new innovations and our cafe drinks offer adds a new dimension to our experience.
"Being a UK manufacturer gave us the flexibility to maintain good stock availability right up to the end of the season. I would like to thank the whole team for their energy, enthusiasm and tireless commitment to delivering on our plans."
Hotel Chocolat will announce results for the six months ended 25 December 2016 on 22 February 2017.
Despite the strong Christmas trading, shares are down 1.4% to 291p.
Morning update
British American Tobacco (BAT) has struck a deal to acquire the remaining 57.8% of Reynolds American that it does not already own for $49.4bn (£40.7bn). The transaction, worth $59.64 per Reynolds share, has been unanimously approved by the transaction committee of independent Reynolds directors established to evaluate the BAT offer. The transaction has also been approved by the boards of Reynolds and BAT. The offer price represents a premium of 26% over the closing price of Reynolds common stock on 20 October 2016 (being the last day prior to BAT's announcement of a proposal to merge with Reynolds).
BAT CEO Nicandro Durante said: "We have been shareholders in Reynolds since 2004 and we have benefited from the success of the present management team's strategy, including its acquisition of Lorillard, which we supported with our own investment in 2015.
"BAT has consistently executed a winning strategy and has a proven track record of delivering strong results and returns for its shareholders while successfully investing for future growth. Our combination with Reynolds will benefit from utilising the best talent from both organisations. It will create a stronger, global tobacco and NGP business with direct access for our products across the most attractive markets in the world. We believe this will drive continued, sustainable profit growth and returns for shareholders long into the future."
Shares in BAT nudged up 0.4% to 4,782p.
Sales at Greggs (GRG) have increased 7% in 2016, aided by a strong finish to the year, with a particularly "strong" performance over Christmas. The high street food-to-go chain said in its pre-close trading update that the full-year results, with like-for-like growth of 4.2%, would be slightly ahead of previous expectations.
Sales over the Christmas period helped fourth quarter company-managed shop like-for-like sales to grow by 6.4%. Excluding the final two weeks of the year, fourth quarter like-for-like sales growth was 4.1%. Greggs said seasonal favourites such as the Festive Bake and traditional mince pies contributed to the performance, but added the main driver was the "growing strength" in food-on-the-go.
The 'Balanced Choice' bakes also proved popular, along with hot food options such as the new burritos. Greggs also announced plans to extend the hot drinks range to include vanilla latte alongside fair trade peppermint tea and green tea.
CEO Roger Whiteside said: "We finished 2016 well, delivering our 13th consecutive quarter of like-for-like sales growth, and anticipate that we will report full year results for 2016 slightly ahead of our previous expectations."
He warned that industry-wide cost pressures in 2017 would likely have a modest impact on margins in the short term.
"In the year ahead, whilst we will undoubtedly see a number of well-documented industry headwinds, we are confident we will continue to make progress with the implementation of our strategic plan, including significant investment in our capability to supply a growing shop estate."
Shares in Greggs surged 3.6% higher to 1,037p on the back on the trading update.
Grocery tech provider Eagle Eye has announced that deputy CEO Phill Blundell has decided to leave the company to pursue other opportunities with immediate effect. Non-executive chairman Malcolm Wall said: "I would like to thank Phill for his contribution to help build Eagle Eye into the business that it is today and wish him all the best for the future."
Yesterday in the City
The FTSE has ended its record-breaking run of 14 consecutive days of gains yesterday despite rises in early trading as the pound slumped further on reports that PM Theresa May would use a speech to signal a "hard Brexit". The blue-chip index has benefitted from the weakness of sterling in recent weeks as profits for its big overseas companies climbed higher when converted. The FTSE fell back 0.2% to 7,327.13 points.
Greggs (GRG) was one the biggest riser yesterday ahead of this morning's results, up 1.9% to 996p. Hotel Chocolate (HOTC) finished the day flat at 295p before its own trading update today.
Elsewhere on a quiet day for the London Stock Exchange for grocery/fmcg stocks, Reckitt Benckiser (RB) was among the climbers, up 1.3% to 6,937p. As was Marks & Spencer (MKS), PZ Cussons (PZC) and Ocado (OCDO), up 1.3% to 343.6p, 1.2% to 342.6p and 1.1% to 269.9p respectively.
Greencore (GNC) slumped 2.5% to 240.9p, and retailers B&M European Value Retail (BME) and WH Smith (SMWH) were also among the fallers, down 1.5% to 300.1p and 1% to 1,563p.
Tesco (TSCO), Sainsbury's (SBRY) and Morrisons (MRW) came down from their good performance last week to slip 1.2% to 203.5p, 0.7% to 262.8p and 0.4% to 241p.