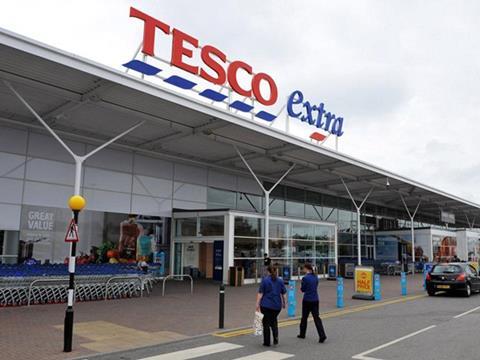 Top story
Sales at Tesco soared 6.6% in the first half to £26.7bn as shoppers relied more heavily on supermarkets during the coronavirus pandemic, but costs also ballooned to weigh on profits.
The supermarket took a £553m hit in the six months to 29 August - which was partially offset by £249m business rates relief and higher food sales - as it hired thousands of extra staff and employed a raft of safety measures across stores.
Operating profits were dragged down 15.8% to £1bn as a result, with a £155m loss at the Tesco Bank business and lower sales in Central Europe also weighing on the bottom line. However, profits from retail increased 4.4% to £1.2bn.
Tesco said it expected a broadly similar picture for the second half, which includes the all-important Christmas period. Losses at the bank for the year were forecast to be between £175m and £200m.
Like-for-like sales in the half increased 6.5% for the group and were up as much as 7.2% in the UK and Republic of Ireland, with growth particularly strong in the first quarter as customers stockpiled groceries at the height of the crisis.
Tesco said whiles growth eased slightly in the second quarter, demand remained demand across the food range, particularly in the meat, fish and poultry category and in beers, wines and spirits.
Online sales leapt 69% in the half as Tesco ramped up its ecommerce capabilities overnight, with growth peaking at 90% in the second quarter. The supermarket doubled its online capacity to 1.5 million orders a week during the period, leading to ecommerce sales climbing from 9% of UK revenues to more than 16% by the end of the half.
Fuel sales dropped by 42% compared with a year ago to £2.1bn.
Ken Murphy, who took over from departing chief executive Dave Lewis last week, said the first half had tested Tesco in ways "never imagined".
"Our colleagues have risen brilliantly to every challenge, acting in the best interests of our customers and local communities throughout. I would like to thank all our colleagues for their amazing contribution and I am delighted and proud to be part of such an incredible team.
"We are absolutely committed to continuing to invest in value for customers and safety for all in these uncertain times.
"Tesco is a great business with many strategic advantages. I'm excited by the range of opportunities we have to use those advantages to create further value for our customers and, in doing so, create value for all of our other stakeholders."
Tesco reduced its promotional participation in the half from 30% to 22% as it launched the Aldi price match campaign and relied more on its loyalty scheme to reward customers. The supermarket added more than one million customers had become loyal over the half, with Clubcard Plus generating a basket size uplift of three times higher than expected.
Convenience sales for the half also increased 7.6%, including a particularly strong performance for the Express and One Stop formats as consumers turned to c-stores more for top up shops. Sales grew in large stores by 1.4% as shoppers visited less frequently but increased average basket sizes by 56%, with transaction down 31%.
Booker sales also grew by 11% in the half, including a 9% contribution from best Food Logistics, which Tesco acquired in March. A 12% decline for the catering side of the business as restaurants shut during lockdown was offset by a 22% uplift in retail sales at the wholesaler.
Tesco group pre-tax profits for the half jumped 29% to £551m as a result of absorbing just £30m of exceptional costs versus £351m a year ago.
The supermarket increased its interim dividends by 21% to 3.2p.
Tesco shares opened 2.1% higher to 218p this morning on the back of the results.
Morning update
In a separate announcement this morning, Tesco also revealed it has appointed Tate & Lyle executive Imran Nawaz as CFO to replace Alan Stewart, who is retiring in April next year.
Nawaz, currently the CFO at ingredients group Tate & Lyle, will join the board at the supermarket in April when Stewart leaves.
He started his career with Deloitte before moving to tobacco giant Philip Morris in corporate audit. He also spent 16 years working at Mondelēz and Kraft Foods in a variety of roles and was senior vice president of finance for Mondelēz Europe.
Tesco CEO Ken Murphy said: "At the start of this search, we set out with the goal of finding a candidate with a blend of financial, strategic and leadership qualities, and with the right values to fit into the Tesco culture. In Imran, we have found all those attributes and I am looking forward to working alongside him."
Tesco chairman John Allan added: "After an extensive search and selection process, I am delighted to welcome Imran to our board as CFO. He brings a wealth of skills, experience and knowledge in the food sector and will be an incredibly valuable asset to Tesco."
Nawaz will remain with Tate & Lyle until April 2021 to close out the current financial year and support "an orderly" transition.
The board at Tate & Lyle has started a process to appoint a successor.
Tate & Lyle CEO Nick Hampton said: "Imran has been an outstanding finance leader and has played an instrumental role in building the financial discipline to enable us to deliver on our strategy. I want to thank Imran for his personal support and dedication to the company over the last two years and wish him every success in the next stage of his career."
Chairman Gerry Murphy added: "Imran has been a highly valued member of the management team and on behalf of the board I would like to thank him for his significant contribution to Tate & Lyle and wish him every success in the future."
The FTSE 100 opened broadly flat at 5,950.53 pts.
Aside from Tesco, other early risers in grocery included Hotel Chocolat, up 3.9% to 333.5p, McBride, up 3% to 62p and Britvic, up 1.4% to 786p.
Early losers included Naked Wines, down 3.9% to 410.5p, Finsbury Food Group, down 1.9% to 54.8p, and Bakkavor, down 1.5% to 65p.
Yesterday in the City
The FTSE 100 managed to keep its head above water yesterday, nudging up 0.1% to 5,949.94pts.
Shares in group's whose value has been devastated by the Covid-19 pandemic show some positive movement's yesterday, with WH Smith leaping 10.7% to 1,042p, SSP Group was up 6.4% to 201.4p and Greencore, which fell to a new low on Monday after a trading update, climbed 8.2% to 102.8p.
Greggs was also up 4.4% to 1,308p, along with Marston's, up 3.7% to 41.6p.
Investors took flight from Ocado yesterday, with the stock down 8.9% to 2,431p, on fears over the lawsuit brought by Auto Store. Hotel Chocolat was also among the day's losers, down 4.2% to 321p, along with Fevertree, down 3.8% to 2,219p, and M&S, down 2.3% to 97.5p.