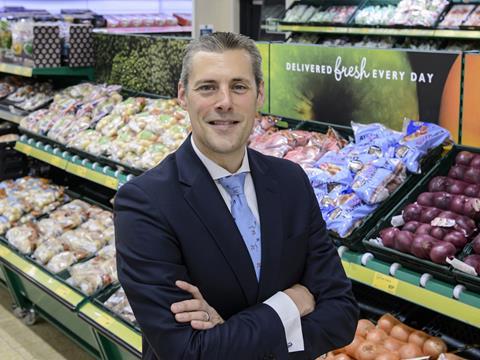 Top story
Matthew Barnes, who oversaw the transformation of Aldi in the UK, has won promotion to a new role at the Aldi South group, with responsibility for Aldi's US operation, as well as the UK and Ireland operations.
Barnes will join Aldi's so-called Coordination Board, where he will be one of only four Aldi executives, reporting into the Aldi family's shareholders.
He will split his time between the HQ in Salzburg and Aldi's stores in the UK, Ireland and the US. Barnes will also join the Board of Hofer KG, Salzburg (Austria).
His promotion, effective 15 April, follows the retirement of Robert Ochsenschläger, and will result in further changes within the UK operation, with group MD Giles Hurley promoted to CEO of UK & Ireland from 1 May.
The other group MD, Dan Ronald, will continue in his role, supported by Oliver King, who was recently promoted to joint group MD.
Click here for the full story exclusive to The Grocer
Morning update
Fast-growing fresh ingredients supplier Freshcut Foods has sold a majority stake to private equity player Perwyn, The Grocer can reveal.
The deal in the past week will see Perwyn back the current management and provide funds to support growth.
The business was acquired from majority shareholders and directors Adam Clarke and Peter Clee, who will continue to run it and remain significant shareholders.
Established in 2002, Freshcut provides cooked and raw fruit, veg and pasta to food manufactures and foodservice operators across the UK for use as pizza toppings or ingredients in dishes such as stir-frys.
Click here for the full exclusive story.
This week's issue of The Grocer also has the stories that Bakkavor is plotting an international growth push following its debut annual results as a listed company, Welsh confectionery firm Bon Bon Buddies falls to loss due to collapse in the pound and Mackie's of Scotland's earnings are hit by rising cream prices.
Check out thegrocer.co.uk/finance later this morning for all those stories and more.
On the markets this morning, US President Donald Trump's threat to introduce tarriffs on steel imports has hit international shares this morning.
The FTSE 100 is down another 0.5% on top of yesterday's falls to 7,143.2pts.
Fallers include Ocado (OCDO), down 2.1% to 529.8p, Total Produce (TOT), down 1.4% to 210p and Just Eat (JE), down 1.3% to 855.2p.
Risers so far include Greggs (GRG), up 1.6% to 1,209p, Premier Foods (PFD), up 1.3% to 39.9p and Greencore (GNC), up 1% to 174.2p.
Yesterday in the City
It was another tough day in the City yesterday, with the FTSE 100 dropping 0.8% to 7,175.6pts and is now down 6.7% so far in 2018.
Amongst those worst hit yesterday were Greencore (GNC), down 2.8% to 172.5p, WH Smith (SMWH), down 2.4% to 1,979p, Ocado (OCDO), down 2.1% to 541.4p, Associated British Foods (ABF), which lost 1.8% to 2,585p after its positive start to the week and Dairy Crest (DCG), down 1.6% to 544.5p.
Vimto-maker Nichols, which announced an annual sales rise of 13.2% yesterday, dropped 1.6% to 1,530p.
However, Total Produce (TOT) defied market gravity after announcing a 43.2% jump in pre-tax profits despite salad shortages in southern Europe. The fresh produce firm's shares rose 0.5% to 213p yesterday.
In New York, AB InBev was also on the up, climbing 3% to US$109.45 after its fourth quarter sales growth comfortably beat City expectations.
Other risers in the UK included Science in Sport (SIS), up 2.2% to 70.5p, Majestic WINE (WINE), up 2% to 424.5p, Hotel Chocolat (HOTC), up 1.5% to 333.5p and FeverTree (FEVR), up 1.3% to 2,514p.