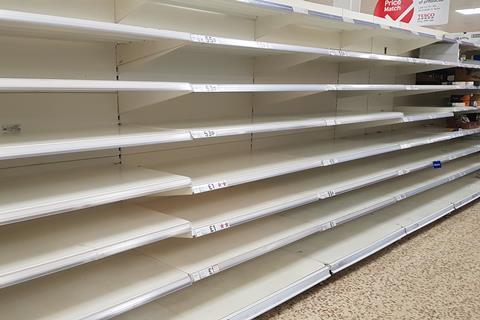 SMEs and startups have reported rising concern they will be faced with a "wartime" grocery market, putting the survival of their businesses at risk.
According to a survey conducted by Young Foodies, an organisation representing over 1,000 fmcg challenger brands, 73% of smaller suppliers see the challenges posed by the coronavirus outbreak as a threat to the survival of their business.
Of those, a further 47% consider the threat of collapse as a "real possibility".
"SMEs are dealing with major challenges to their businesses and livelihoods, and concerns are rapidly rising that they might be faced with a war-time grocery market within weeks," Thea Alexander, co-founder of Young Foodies, said.
The surveyed brands expect an average loss in revenue for 2020 of around 33%, as they fear they are being deprioritised by retailers rushing to stock essentials as shoppers move into panic-buying.
Crisps, snacks & nuts, confectionery and soft drinks were noted as the most at-risk categories for deprioritisation.
Furthermore, brands expressed growing concern they will be temporarily delisted from major grocers, which account for over 50% of their revenues.
However, 47% of respondents also spotted opportunities in the impact Covid-19 will have on the grocery sector, with most of them embracing e-commerce channels pivoting marketing spend into online advertising.
Laura Cicley, co-founder of Sxollie Cider, said as more people started buying online, the opportunity to grow e-commerce sales was "huge".
"As bigger companies start shutting down, we have an opportunity to penetrate and get into other people's spaces," she added.
"As smaller players, we can be quite responsive to things more quickly than bigger suppliers."
Alexander praised brand founders' mental stamina to "triumph in the face of adversity" despite livelihoods being at risk.
"Challenger brands have lived, breathed and evidently thrived through risk and volatility for years so their response right now is to focus heavily on preparedness and maximising cashflow," she added.
"They are working round the clock to navigate the new complexities and create new DTC channels to ease their reliance on bricks and mortar sales. They are being highly proactive and innovative in their approach, from switching marketing efforts to e-commerce to nurturing high care supply chains despite having little control over them."
Nonetheless, Young Foodies urged the industry, government and shoppers to support smaller suppliers backing social media campaign #stockupsmall and providing "essential measures" such as shorter payment terms and tax breaks.