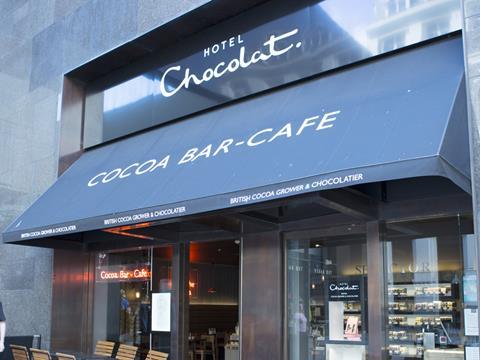 Top story
Hotel Chocolat (HOTC) has announced a "slightly ahead" of market expectations 12% rise in sales for the 52 weeks to 26 June.
Full-year revenues reached £92.6m following the group's AIM listing in May 2016, with online revenues up 20%.
Since the listing it has opened one new store in Sheffield with a further four new stores expected to open later this year.
Its plan to increase the manufacturing capacity at its Cambridge facility is "on schedule and within budget" and the company stated: "The board maintains focus on its operating margins and tight cost control across all aspects of the business".
Trading since year-end continues to be in line with management's expectations and it will announce its maiden preliminary results in mid October.
Angus Thirlwell, co-founder and CEO said: "Hotel Chocolat has had a good start as a listed company, with pleasing growth slightly above expectations. We remain confident in our strategy. Our plans to invest further in our British chocolate manufacturing operations, in new stores, and in our digital offering are all progressing well."
Hotel Chocolat floated at 148p in May and soon rose to 225p, but it has settled down around the 175p mark since. This morning the shares are up 2.7% to 180.2p.
Morning update
UK retail sales fell 0.5% like-for-like in June after increasing 1.8% in the previous year, according to the BRC-KPMG Retail Sales Monitor for June 2016.
On a total basis, sales rose 0.2%, against a 2.9% increase in June 2015, which had been the third best performance of 2015
On a three-month basis, retail sales rose 0.5%, and 1.2% on a 12-month average basis. This is the lowest 12-month average since May 2009
However, the study said it was too early to assess any Brexit impact on retail sales or explain the sales drop by the EU exit.
Helen Dickinson, chief executive of the British Retail Consortium said: "The month outturn was predominantly driven by a decline in sales in the fashion categories and isn't a surprise given that June 2015 saw record growth in clothing and footwear. Looking across the last three months, food has held its ground with a better performance than non-food sales, which has seen its lowest growth since April 2012, largely due to fashion combined with a slowdown in furniture."
David McCorquodale, Head of Retail, KPMG added: "Elsewhere, Euro 2016 kicked things into gear a bit for the grocers, with sales improving 0.8% in the three months April-June. However, the decline on a like-for-like basis suggests food and drink sales continue to be dragged down by the deflationary tide in the sector."
Elsewhere, Stevia producer PureCircle (PURE) is looking for a new chief operating officer after the resignation of Jordi Ferre. Ferre is pursuing a "non-conflicting business opportunity" and will remain in his post until 30 September to ensure a smooth handover of responsibilities to his replacement, which is currently being sought.
Chairman Paul Selway-Swift said: "We thank Jordi for his contribution to the company, leaving behind him at PureCircle a management team able to deliver future growth, and wish him every success in the next phase of his career."
The FTSE 100 is holding its gains from yesterday and the prior week (see below), edging down just 0.1% to 6,677.4pts so far this morning.
PureCircle has dropped 4.3% to 342.2p on the news of its COO's exit this morning.
Other movers include Applegreen (APGN), up 3.8% to 345p, Ocado (OCDO), up 2.8% to 243.6p and Marks & Spencer (MKS) up another 2.6% to 337.9p.
Early fallers today include Conviviality (CVR), down 1.7% to 179.3p and the strengthening pound has hit UK-based global fmcg companies like Diageo (DGE), down 1.5% to 2,128.5p, Unilever (ULVR), down 1.4% to 3,605.5p and Reckitt Benckiser (RB), down 1.5% to 7,578p.
Yesterday in the City
The apparent filling of the UK's power vacuum with the confirmation that Theresa May will become Prime Minister helped settle the City with the FTSE 100 rising 1.4% to 6,682.9pts.
The FTSE 100 is now up by more than 12.5% since its post-Brexit slump to under 6,000pts.
Almost all grocery and fmcg stocks were lifted by the wave of positive sentiment.
Poundland (PNLD) was one of the day's biggest movers, rising 6.1% to 195p on expectations that South Africa's will come back with a firm offer for the retail ahead of tomorrow's deadline.
Also on the rise was Marks & Spencer (MKS) after its tough week and disappointing first quarter figures last week. M&S was 3.8% up to 329.4p yesterday.
Other risers included PayPoint (PAY), up 3.8% to 911p, B&M European Value Retail (BME), up 3.8% to 255.5p, Cranswick (CWK), up 3.4% to 2,302p and Dairy Crest (DCG) up 3% to 577p.
Travel retail specialists WH Smith (SMWH) and SSP Group (SSPG) were up 3% to 1,575p and 2.8% to 301.8p respectively.
Food retailers saw more modest improvements with Ocado (OCDO) leading the pack after a 2.8% rise to 237p. Sainsbury's (SBRY) was up 1.5% to 227.3p, Tesco was up 1.3% to 165.3p and Morrisons (MRW) edged up 0.7% to 179.7p.