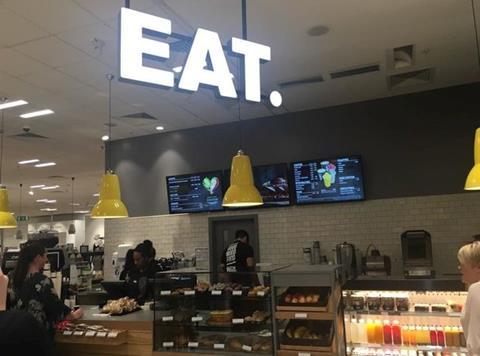 The pressures troubling the casual dining sector are also affecting the quick service restaurants, with newly filed accounts for sandwich chain Eat showing pre-tax losses rose from £1.5m in 2016 to £3.7m last year - its fifth consecutive year of losses.

Rising rents, the national living wage and uncertain consumer confidence have combined to stress a number of high street eateries, with chains like Jamie's Italian, Byron Burger and Prezzo restructuring and closing outlets in recent months.

And reports surfaced last month that Eat had called in KPMG to find ways to restructure its portfolio, reportedly including the closure of a chunk of its 100-plus store estate.

In response, the chain had previously revealed that annual like-for-like sales during its most recent financial year were up 4.9% and its EBITDA had risen 19% to £4.3m. However, the accounts for the year to 29 June 2017, posted on Companies House this week, paint a different picture.

Pre-exceptional operating losses were down from £3.4m to £1.9m, but it was hit by exceptional charges of £1.5m related to restructuring costs in comparison to an exceptional gain of £2m in 2016 largely due to a one-off VAT gain. Turnover also fell by 1.8%, from £101.1m in 2016 to £99.2m, despite the rise in like-for-like sales.

The loss at parent company Villiers Topco was £18.9m, with an operating loss of £6.5m exacerbated by £12.4m of interest payments on bank and other debt. The holding company's losses have exceeded £20m for each of the past three years.

Eat, which is majority-owned by private equity investor Lyceum Capital after a takeover in 2011, cut long-term borrowings from £128.2m to £46.3m during the year by converting £94.5m of investment from its parent from loan notes into equity.

Eat chairman John Derkach maintained 2017 represented a "good year" for Eat compared with a "challenging" trading period in 2016."In addition to our organic sales growth, we have been developing a number of new partnerships in key transport or specialist sites, both in the UK and internationally," he said, citing the opening of two stores with the Compass Group and an international store in Madrid Airport.

He added: "We are making a substantial investment in the Eat brand and our food." As part of this we have further strengthened our food team with the recent appointment of Arnaud Kaziewicz, a professional chef and BBC MasterChef finalist."
Eat joins a list of high street eateries under pressure to restructure in recent months.
This week Jamie Oliver's two Barbecoa restaurants in London were placed in administration, although he immediately bought one back.
Separately Jamie's Italian announced in January it is closing 12 of its 37 UK branches as part of a restructuring plan, burger restaurant Byron instigated a rescue plan involving a company voluntary arrangement to lower its rental bill and Square Pie fell into administration last month.
Rob Croxen, partner at KPMG and joint administrator of Square Pie, said: "These are tough times for companies in the casual dining sector as operators continue to contend with rising input costs, fragile consumer confidence and the impact of the Living Wage."