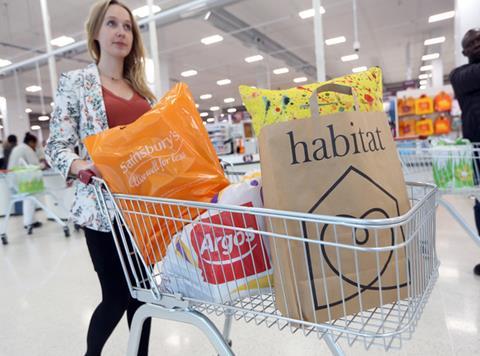 "Sainsbury's saved again by its 'guardian angel' Argos" is the headline in The Times this morning as the supermarket's acquisition of Argos mitigated otherwise lacklustre results.
Argos has again boosted sales at Sainsbury's and offset a fall in food sales in a further sign that the acquisition of the catalogue retailer is helping Britain's second-largest grocery business (The Times £). Sainsbury's leaned on its newly acquired Argos catalogue retail business to deliver sales growth at the start of the year, after the group's core supermarket business slipped into decline (The Financial Times £). A strong performance by Argos failed to mask a slide in sales at Sainsbury's in the last quarter of its year, as the UK's second biggest grocer warned that rising food prices would pile more pressure on the sector (The Telegraph).
Sainsbury's has warned that the impact of cost pressures from the post-Brexit vote decline in the pound remains uncertain as it reported a slight fall in sales at its supermarkets (The Guardian). Sainsbury's has warned of cost pressures following the post Brexit vote fall in the pound, which has hit all British supermarkets hard. Higher import costs have started to push up food prices as grocers pass on the cost to their customers (The Daily Mail).
Nils Pratley in The Guardian writes of the looming threat to the supermarkets from inflation. "Inflationary breezes, allowing prices to be raised faster than overheads, used to be a supermarket's best friend and surest way to protect profit margins. Not now… Inflation was great for supermarkets only when competition was weaker. Life has changed."
Sainsbury's Argos chief executive John Rogers talks to Sky News about the challenges of rising prices as inflation returns to the supermarket sector. (Sky News)
The FT's Lex column is unconvinced of Sainsbury's longer term prospects, writing: "Rising sales are not much use if achieved at the expense of margins… Sainsbury shares are cheaper than those of rivals, relative to earnings and dividends. But the valuation does not look particularly compelling relative to its medium-term average… There is little obvious reason to rush in." (The Financial Times £)
Elsewhere, Unilever should have held talks with Kraft Heinz instead of sharply rejecting the $143bn bid that led to the speedy withdrawal of the US food group, according to a majority of its shareholders surveyed by broker Bernstein. (The Financial Times £)
The call by the head of Unilever, Paul Polman, for our "national champions" to be better protected from foreign takeovers has provoked a Marmite-like reaction from the business community. (The Telegraph)
Shoppers are expected to spend less money this year as rising inflation begins to hit people's purse strings, a report by PwC claims. (The Daily Mail)
The size of Scotland's cattle herd has shrunk to its lowest level since 1957 because of higher costs. (The Times £)
The FT looks at how taking a basic toiletry and selling it directly, backed by a lively social media campaign, has created a $1bn business for now Unilever-owned Dollar Shave Club. (The Financial Times £)
The world's largest chocolate makers, including Nestlé, Mars and Mondelez, and cocoa traders, such as Cargill and Olam, have agreed to co-operate in ending deforestation in key cocoa growing areas, starting with the Ivory Coast and Ghana. (The Financial Times £)