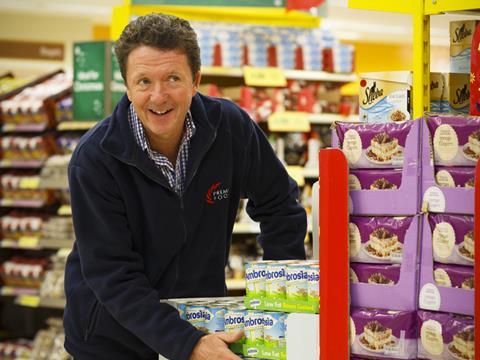 Premier Foods has blamed problems with its logistics overhaul, which aims to consolidate warehousing and distribution operations, for sliding sales at the end of last year (Telegraph £). The Mr Kipling owner reported a 2.2% fall in revenues to £255.6m for the three months to 29 December as it dealt with issues transferring stock to a new outsourced warehouse in Tamworth. Premier Foods saw its 'sweet treat' revenues fall by 6.9% in its third quarter, but has opted to maintain its full-year profit forecast. Non-branded sweet treat sales plunged by 20.7% in the quarter as the group pulled out of a number of lower margin seasonal and non-seasonal cake contracts (Daily Mail).
Primark's owner Associated British Foods reported on Thursday that UK sales at the retailer had "exceeded our expectations" over the Christmas period, bucking the trend of disappointing results reported by many competitors (Financial Times £). Its share price rose 6% in yesterday's morning trading. Primark's finance chief has urged for a "level playing field" on business rates after the fashion giant shrugged off a November sales blip to report a record Christmas (Telegraph £). AB Foods said that Primark's strong performance as well as sales growth in the rest of its divisions, except sugar, meant that its outlook was unchanged and its adjusted operating profit for the year should be in line with the £1.4 billion recorded last year (The Times £). Primark accounts for around half of ABF's annual revenues and profits. Sales at its grocery business rose 2%, while agriculture was up 5% and ingredients up 1% (Daily Mail). ABF, which has a large food business, also flagged signs of improvement in sugar prices but warned of ongoing losses at its bakery business, which owns the Kingsmill, Allinson and Sunblest brands (Financial Times £).
Shareholders in the company that owns Patisserie Valerie are increasingly concerned that the café chain could be sold cheaply or even put into administration after it warned that its accounting problems ran deeper than initially thought (Financial Times £). Patisserie Holdings is in urgent talks with its lenders HSBC and Barclays to extend a financing agreement beyond its scheduled expiry on Friday and has retained KPMG to "review all options available" to recover and preserve value. Patisserie Valerie suffered another setback yesterday when Lee Ginsberg, its deputy chairman and former head of its audit committee, resigned with immediate effect (The Times £).
Two tobacco groups that supported Palmer & Harvey will receive less than a third of the amount that they paid to shore up the wholesaler before it collapsed into administration (The Times £). The latest administrator's report shows that although the main lenders, including Barclays, HSBC Invoice Finance, PNC Business Credit and Royal Bank of Scotland, will receive the full £187.4 million that they are owed collectively, Japan Tobacco International (JTI) and Imperial Brands will not fare as well. The two companies are likely to receive between £59.5 million and £66.1 million in total, far less than the £250 million they are owed.
Britain has failed to finalise most trade deals needed to replace the EU's 40 existing agreements with leading global economies and will not be close to doing so when Brexit occurs on 29 March, according to an internal Whitehall memorandum (Financial Times £). The memo, compiled by civil servants as part of contingency planning for the UK crashing out of the EU without a formal Brussels divorce agreement, warned that most of the deals would lapse without a transition period that keeps Britain under the EU umbrella once Brexit occurs.
Whitbread has warned its profit growth will stall next year, taking the shine off the launch of a £500m share buyback programme following its blockbuster sale of Costa Coffee (Telegraph £). Whitbread, the owner of the UK's biggest hotel brand, Premier Inn, has said bookings outside London are falling as travellers tighten their purse strings (The Guardian, The Times £). The firm has warned that it remains cautious about its performance within the UK due to "increased uncertainty and continuing high inflation" (Daily Mail).
"After the Costa coup, how will Whitbread fare as a one trick pony?" asks Oliver Gill in The Telegraph (£). "Whitbread, once a brewer, restaurant owner, gym operator, pizza franchisee and coffee barista, disappointed in its distinctly new one-dimensional guise."
"Will investors check out of Whitbread after its £3.9bn coffee deal?" asks Matthew Vincent in Financial Times' (£) Lombard column. "Despite some grumbling on Thursday, no one checked out. Alison Brittain will hope it stays that way."
The world's red meat and sugar intake needs to be cut by half, according to leading academics and scientists who are calling for a drastic change in food production and consumption in order to improve human health and environmental sustainability (Financial Times £).
Kate Swann looks set to go out on a high when she hands over the top job at SSP, despite disruption to its French operations caused by the yellow vest protests. The transport catering group, which she has run since 2013, said that it had made a good start to the financial year, reporting total first-quarter revenue growth of 7.7% (The Times £).
"Gillette's commercial has set social media alight but shows how brands are becoming less passive," writes Matthew Garrahan for the Financial Times (£).
"Every January for the past five years, Google has recorded a spike in searches for alternative milks – oat, almond, rice and soy – as consumers seek out dairy-free options," writes Sophie Christie in a feature on the rise of oat milk in The Telegraph (£).
The Brazilian government is forecasting this year's coffee crop to total between 50m and 55m 60kg bags, a 15 per cent decline from last year's record harvest (Financial Times £).
Victims of a wine investment scam are being freshly targeted by criminals intent on siphoning off even more cash, a national fraud reporting service said, as it warned of a growing incidence of wine-related "recovery fraud" over the past six months (Financial Times £).
A Scottish shopping centre owned by a global asset manager is up for auction with a starting price of £1, in the latest sign of the downturn in the retail property market (Financial Times £, The Times £).
Demand for mortgages and credit card lending is expected to fall sharply in the next three months, according to a survey by the Bank of England (The Times £). In a further sign that consumers are reining in their spending before Brexit, the Bank said lenders expect demand for credit card loans to fall by the largest amount since records began in 2007.
The "sunshine" vitamin is now Britain's most popular single food supplement after sales rose 7 per cent last year (The Times £).