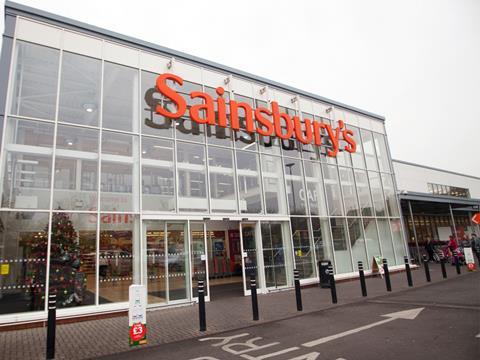 News that Sainsbury's is to cut 2,000 jobs across the UK makes all the papers this morning. The Guardian writes that store and back office roles are to be axed to save £500m to counter the impact of an intensifying price war with discounters Aldi and Lidl. The Financial Times notes that the move will mainly affect human resources and payroll staff. The Telegraph clarifies that 1,400 payroll and human resources jobs will be scrapped along with a further 600 job losses as part of a restructure of human resources functions at its banking arm and Argos. The restructuring will affect posts in stores across the UK, as well as in dedicated HR and payroll departments in Manchester, Coventry, Edinburgh and London, The Times says.
Grocery sales have risen again with higher prices and early Christmas shopping helping the sector chalk up its 17th consecutive quarter of growth, The Telegraph notes, reporting the latest Kantar Worldpanel figures.
Sales at French food group Danone accelerated in the third quarter driven by strong performance from its specialised nutrition and waters divisions (The Financial Times). The Lex column in The Financial Times says cost cutting and acquisitions are delivering results, but there is more to do at the French group. The Danone board is to meet today to discuss the future of chairman Franck Riboud at the company founded by his father, The Financial Times reports. Riboud, 61, the group's former chief executive who has an "enhanced" chairman role, could move to become non-executive chairman or step down altogether, said people with knowledge of the situation.
Nelson Peltz lost out on a P&G board seat battle by a whisker, The Financial Times writes. SEC filing shows activist investor lost vote by a less than 1% margin.
The cost of living in Britain is rising rapidly, official figures showed yesterday. The rate of inflation hit a five-year high in September, adding to expectations that the Bank of England will increase interest rates next month, The Times writes. Food prices climbed as inflation in staples such as bread, rice and meat accelerated in September, while transport costs also rose as petrol became more expensive, The Telegraph adds.
Sales at French supermarket retailer Casino Guichard-Perrachon were slightly ahead of consensus expectations in the third quarter, boosted by the performance of its Monoprix and Geant brands, and its smaller Cdiscount e-commerce platform (The Financial Times).
British businesses could face an extra £1bn tax bill next year, which would be the "last straw" for small shops, unless the Government freezes business rates, the BRC has warned (The Telegraph).
Marks & Spencer has been named the standout star for its Christmas dinner offerings this year in the annual Good Housekeeping test, with more of its products in the top five for each food and drink category in a blind taste test than any other supermarket (The Telegraph).