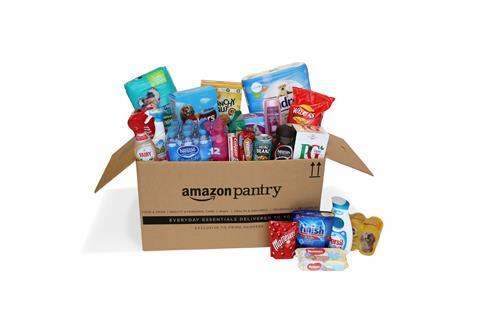 It's a particularly quiet morning in the papers for retail news but the Amazon / Morrisons deal is still generating column inches.
The Financial Times has a feature which argues that Amazon's grocery deal with Morrisons is only the beginning. The paper writes that Amazon has been struggling to make a grocery delivery business work for more than a decade but it was now closing in on a solution. "It is hard to keep pace with Jeff Bezos. To compete with the Amazon founder is to flail away in your Speedo trunks in the slow lane of the pool, while in the next he porpoises up and down in a skin-tight synthetic fish suit."
In the wake of the Amazon Morrisons tie-up the paper takes a lengthy look at the rise of click and collect in UK retail. "Rock bottom prices alone no longer cut it. Britain's biggest grocers are being forced to try new tactics to hold on to customers."
Morrisons looks set to return to the FTSE 100 at the first time of asking after it stock was buoyed by the deal (The Times).
The Financial Times has a story that grocery retail stocks are the most shorted in Europe as the sector struggles to adjust to falling consumer prices and discount rivals.
The FT also reports that Steinhoff has entered a second bidding war in an attempt to muscle in on a takeover of UK-listed white goods chain Darty. It follows the South African furniture retailer entering the race for Argos at the last minute to leave Sainsbury's scrambling. French-based Conforama, a home furnishing part of Steinhoff, has approached Darty with an all-cash offer disrupting plans already in motion for Fnac to buy the business.
British food exports have fallen for the first time in 11 years but the weakness in the pound could help companies recover, according to the Food and Drinks Federation. The industry body published its annual figures showing a 4% fall in food and non-alcoholic drinks exports to £12.3bn in 2015, driven by a 6% drop to the EU (The FT).