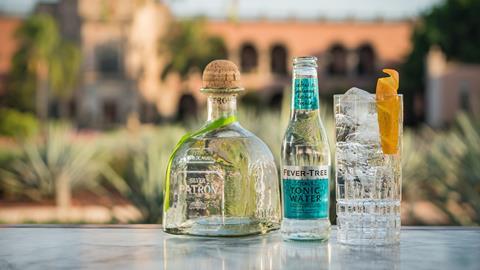 Fevertree Drinks was being tipped as a potential bid target last night after a warning over poor Christmas trading sent its shares tumbling by more than a quarter (The Times £). Fever-Tree is being tipped as a takeover target after a warning over weak Christmas trading in the UK sent shares plunging by a quarter (The Telegraph).
Shares in high-end tonic maker Fevertree were heading for their worst trading day on Monday, tumbling almost 25% after the company warned of an abrupt halt to its UK sales growth and said profits had shrunk in 2019 (The Financial Times £). The drinks company Fever-Tree has warned on profits and cut its sales forecast for the second time in two months, blaming a slowdown in consumer spending (The Guardian). Fever-Tree's value crashed £629m yesterday as it issued its second warning about sales within three months (The Daily Mail). Mixer-maker Fever-Tree has warned of lower than expected revenues after a "challenging" Christmas in the UK as consumers tightened their belts (Sky News).
The FT's Lombard column writes: "Competition from the likes of Schweppes is hotting up. There are signs, too, that the craze for gin and tonic that has driven Fevertree's rise over the past five years is turning… The US pop and soda market dwarfs the UK's but it is a hard one for a smallish British company such as Fevertree to crack." (The Financial Times £)
Pret A Manger co-founder Julian Metcalfe is plotting a stock market float of his sushi chain Itsu to raise cash for a major US expansion. (The Telegraph)
One of Portugal's richest men has attacked huge payouts handed to the bosses of vodka maker Stock Spirits as a row between the pair intensifies. (The Telegraph)
The indebted shopping centre owner Intu is in talks with investors to raise fresh funds after a difficult period in which a number of retailers collapsed and many more closed shops (The Financial Times £). The debt-laden owner of the Trafford Centre in Manchester and Lakeside in Essex is in talks to raise emergency cash next month in what will be a big test of investors' appetite for retail property (The Times £).
Beleaguered shopping centre landlord Intu Properties is gearing up for an emergency rights issue next month as it looks to raise as much as £1bn in cash (The Telegraph). Shares in Intu fell sharply after the indebted shopping centre owner confirmed it would push ahead with a cash call thought to be worth as much as £1bn (The Guardian). Struggling shopping centre owner Intu Properties is planning to raise as much as £1bn in cash as early as next month to tackle its £4.7billion debt pile (The Daily Mail).
A third of retailers were forced to put out profit warnings in 2019 in another punishing year for Britain's high streets. (The Daily Mail)
More than 1,000 jobs are at risk after Beales, the 139-year-old department stores group, became the first significant casualty of the tough conditions faced by retailers over Christmas. (The Times £, The Telegraph, The Guardian, The Daily Mail)
The EU has revealed it might not be ready to start negotiating a free trade deal with Britain until March. Eric Mamer, chief spokesman for the European Commission, made the comments at a media briefing in Brussels. (Sky News)
Britons' pessimism about their finances has eased since the election, according to IHS Markit. (The Times £)
Uber has sold its food delivery service in India to local rival Zomato, the firms have announced. Uber will get a 9.99% stake in the Indian start-up, helping it maintain its presence in the sector. (The BBC)
Despite thousands of closures across America that have pushed vacancies in shopping malls to their highest level in at least two decades, overall retail rents are still creeping up. (The Financial Times £)