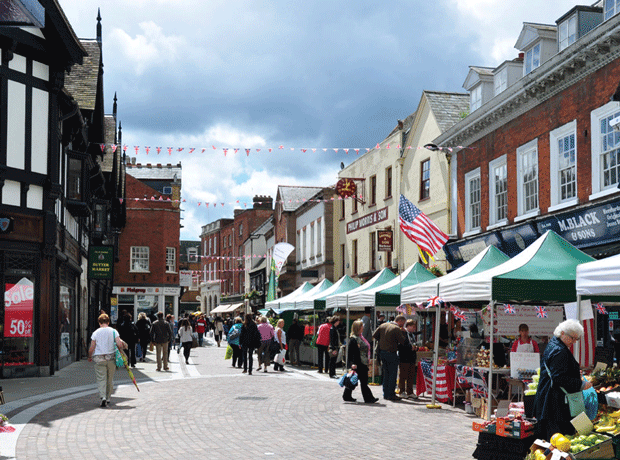 High street shops, department stores and shopping centres are set to reopen on June 15 in the biggest easing of the lockdown since coronavirus hit Britain, Boris Johnson announced on Monday night (The Telegraph). Outdoor markets and car showrooms will be allowed to reopen in England from Monday next week, while other non-essential retail premises will be allowed to open in three weeks' time, Boris Johnson has announced (The Guardian). The PM said outdoor markets and showrooms will be able to start trading again in England from 1 June - so long as they keep customers safe (Sky News). The move is "contingent on progress in the fight against coronavirus", and retailers will have to adhere to new guidelines to protect shoppers and workers, the PM added (The BBC).
Independent traders, such as butchers and grocers, are moving into vacant high street stores across parts of London in a bet that people will shop more locally when the coronavirus lockdown ends. (The Daily Mail)
Record borrowing and an unprecedented collapse in retail sales have laid bare the devastating impact of the lockdown after Britain reported its worst ever week of economic data (The Telegraph). Retail sales fell by a record 18.1 per cent last month, after a fall of 5.2 per cent in March when the government introduced the national lockdown (The Times £).
Rebirth of high street may be no bad thing, writes Ben Marlow in The Telegraph. No corner of commerce has escaped unharmed but some industries, such as retail, will be completely redrawn. (The Telegraph)
Marston's and Carlsberg UK will create a £780m brewing joint venture that will allow the two companies to merge operations and save costs in face of falling sales and virus disruption (The Financial Times £). The redrawing of Britain's brewing landscape accelerated on Friday when Marston's and Carlsberg UK said that they were forming a £780 million joint venture (The Times £). The move, the latest in a series of deals within the UK beer industry, will establish the Carlsberg Marston's Brewing Company (The Telegraph).
The Society of Independent Brewers (SIBA), the trade body representing small breweries, warned the deal could make it harder for independent beer firms to get their beers into pubs. (The Guardian)
More than 1,000 Carluccio's staff have lost their jobs after 40 sites were shut by administrators, with the remaining restaurants acquired by the food industry tycoon Ranjit Singh Boparan (The Guardian). The deal saves 800 jobs and 30 sites, but 40 restaurants and more than 1,000 jobs will be lost, more than half the total workforce (The BBC).
Boparan Restaurant Group, which also owns the Giraffe and Ed's Easy Diner chains, has acquired the Carluccio's brand and 30 restaurants for a knockdown price estimated at £3m (The Times £). Boparan paid £3.4m for the business; it was bought by Micky Jagtiani's Landmark Group for £90m just two years ago (The Financial Times £)
The boss of Marks & Spencer has bowed to pressure and slashed his bonuses after ditching dividends worth £470m. (The Daily Mail)
Unfashionable white eggs normally used in McDonald's breakfast McMuffins are making a surprise comeback on the shelves of Tesco – the first time the supermarket has sold them for more than 40 years. (The Guardian)
The BBC has an interview with Greencore's Patrick Coveney: The man who sells 700 million sandwiches a year. He says the coronavirus has made previous worries about Brexit "seem very trivial". (The BBC)
Corner shops are reflecting the best and worst of us in lockdown, writes Zoe Williams in The Guardian. "We rightly praise shopkeepers trying to do the best for their customers. But I'll never forgive the price-gougers exploiting the pandemic". (The Guardian)
Pizza Express is considering the permanent closure of some of its restaurants as it battles to secure its long-term future. The debt-laden chain is understood to be looking at a company voluntary arrangement, under which loss-making stores would close once the coronavirus pandemic has passed. (The Times £)
Bank deposits are surging across Europe as people respond to the economic and social upheaval of the coronavirus crisis by saving more, fuelling fears among economists that consumers will not come to the rescue of the continent's shrinking economy. (The Financial Times £)
The pandemic-driven rise in online shopping feels like the sort of trend that is going to outlast this crisis, writes The FT Magazine. It is not a coincidence that Facebook, Shopify and the founder of Stitch Fix have all launched new shopping platforms over the past few weeks. (The Financial Times £)