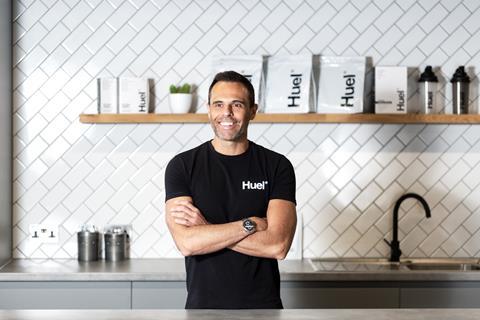 The plant-based meal replacement maker Huel has hired bankers to advise on an initial public offering in London after a surge in popularity for its products in the pandemic fitness boom (The Financial Times £).
The founder of Huel is in line for a fortune worth hundreds of millions of pounds as the meal-replacement drinks maker gears up for a London listing that could value it at up to £1bn (The Telegraph).
The boss of Greencore, the convenience food group, is to leave to take up the top job at catering company SSP, after more than a decade running Britain's biggest maker of sandwiches (The Times £).
The boss of Majestic Wine has insisted that his company's stores will be fully stocked this Christmas despite the supply chain problems affecting the drinks sector (The Mail).
Britain's crisp shortage has begun to ease but supplies on shelves remain low, with a quarter of shops still struggling to find stock (The Times £).
Rémy Cointreau shares rose more than 10% on Thursday after the maker of luxury French spirits upgraded its full-year profit guidance, buoyed by a surge in cognac sales (The Financial Times £).
The French spirits maker Rémy Cointreau is stepping up the pace on expanding its super-premium cognac business as it seeks to boost its credentials as a luxury goods group (The Times £).
Marks & Spencer has become the target of a row over plans to demolish its flagship London store, as fears rise over the death of Britain's high street heritage architecture (The Telegraph).
Fears of gift shortages over Christmas sparked the strongest monthly rise in retail sales in November since May 1990, according to the CBI (The Times £).
Shoppers face the biggest price rises in more than 30 years this Christmas after fears of widespread shortages sent people rushing to the shops this month (The Guardian).
A London-listed operator of petrol stations in Africa is to be taken private by its biggest shareholder less than four years after floating (The Times £).
Eco-friendly pet food is on the rise as dog and cat owners become more aware of the impact of their beloved pet's diet (The Guardian).
The founder of JD Wetherspoon has launched an extraordinary attack on one of the pub chain's biggest shareholders, accusing Fidelity of damaging public companies with a "box-ticking" approach to governance while breaking the rules itself (The Telegraph).
In an announcement to the London Stock Exchange last night after markets had closed, Tim Martin, 66, chairman and founder of the pub chain, said that Fidelity "has voted against two experienced Wetherspoons non-executive directors. However, it does not seem that the boards of Fidelity companies themselves observe the nine-year rule." (The Times £)
Pub and restaurant group Mitchells & Butlers has seen sales jump above pre-Covid levels in recent months, but warned that problems caused by Brexit and soaring costs will 'inevitably' hit performance in the current year (The Mail).