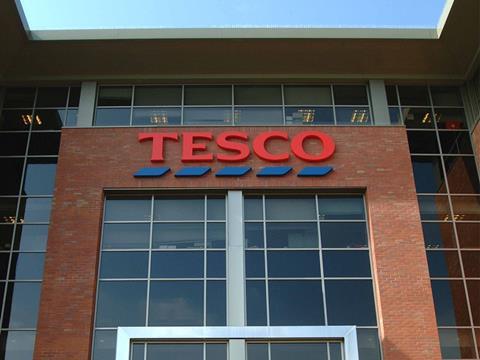 Three former senior Tesco executives carried on "conniving and manipulating" after a hole in Tesco's accounts began "spiralling out of control" during the first half of 2014, a jury has heard. The jury heard of increasingly frantic attempts to deal with the growing hole in Tesco's accounts during the first half of 2014 — including Carl Rogberg telling a "bare faced lie" in a meeting with Tesco's then chairman Sir Richard Broadbent (The Financial Times £). Three senior Tesco executives were "clearly dishonest" and had "cooked the books" at Britain's biggest retailer to mislead the stock market, a court has heard (Sky News).
A former chairman of Tesco is to be a witness at the fraud trial of three former executives at the retailer. Sasha Wass, QC, for the prosecution, made the disclosure about Sir Richard Broadbent to the jury at Southwark crown court in London yesterday. (The Times £)
Carl Rogberg, Christopher Bush and John Scouler are on trial over a £250m accounting scandal at the retailer.
Retail employment fell by 62,000 last year as the digital revolution put more pressure on the high street. Headcount in shops and other outlets fell by 2.2% last year, more than any other industry group, the Office for National Statistics said. (The Telegraph)
Unilever has agreed to acquire Brazilian natural and organic food business Mãe Terra for an undisclosed sum. Unilever's purchase of Mãe Terra, which makes everything from organic cereals, cookies and other snacks and is growing at over 30% a year, marks the latest effort by the food and personal care behemoth to push into the organic foods business. (The Financial Times £)
Coca-Cola increased its production of throwaway plastic bottles last year by well over a billion, according to analysis by Greenpeace. The world's biggest soft drinks company does not disclose how much plastic packaging it puts into the market, but analysis by the campaign group Greenpeace reveals what they say is an increase in production of single-use PET bottles from 2015-2016. (The Guardian)
Jamie Oliver lost more than £8.4million last year after weak demand across his Italian restaurants forced him to close a number of branches. The chef, who has 42 restaurants in the UK, saw his profits plummet 78.5% to £2.3m in 2016 from £10.7m the year before after shutting six of his underperforming Jamie's Italian branches. (The Daily Mail)
Quebec is no easy place to do deals, writes the FT's Lex column. A strong nationalistic ethos has tripped up or spooked many a prospective buyer. In this sense, Jean Coutu the eponymous founder of the pharmacy chain his family controls, pulled off an impressive feat Monday when he announced the company's C$4.5bn (US$3.6bn) sale to Metro, the grocer. (The Financial Times £)
Looking at the 2 Sisters food safety story, Felicity Lawrence in the Guardian writes: "Politicians dare not say it for fear of sounding Marie Antoinette-ish. But the price of cheap is too high, and we should probably be eating something else." (The Guardian)
A group led by Zevin Asset Management announced it would pressure Starbucks to inform shareholders of whether its paid family leave policy – which offers less leave to retail workers, adoptive parents and new fathers than to corporate employees – might count as employment discrimination. (The Guardian)
The US has moved to revive a trade dispute with Canada over what it says are unfair limits on the sale of imported wine. The World Trade Organisation circulated the new complaint - which focuses on wine sales in the province of British Columbia - on Monday. (The BBC)