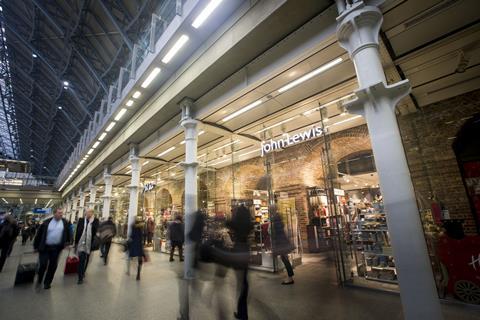 Turning unwanted John Lewis and Waitrose shops into homes, launching a gardening business and striking new partnerships are some of the radical ideas under consideration to revive the employee-owned retailer (The Times £). John Lewis & Partners is to expand its financial services business and venture into housing and horticulture after warning that margins in retail are too thin to sustain the company in the long term (The Financial Times £). The new boss of John Lewis has launched a revolutionary plan to save the retailer in which it could open garden centres, junk a longstanding price promise and turn department stores into affordable housing (The Telegraph).
The owner of John Lewis and Waitrose is exploring turning its surplus retail space into affordable housing as the growth of online shopping forces it to close or scale back stores (The Guardian). John Lewis is planning to turn retail space it no longer needs into affordable housing as part of a strategic review of the partnership (The BBC). The employee-owned group is also considering branching out into product rental and the resale of "used" items as it eyes new markets as part of its strategic review (Sky News).
Sharon White has brought down curtain on the golden age of department stores, writes The Telegraph, as the John Lewis chairman is willing to try some very unconventional things to save her company. (The Telegraph)
Amazon's profits soared in its second quarter, despite heavy costs related to the coronavirus pandemic (The Financial Times £). Amazon increased its revenues by 40% in the second quarter after consumers across the globe turned to the online retail giant during the coronavirus lockdown (The Times £). Amazon posted the biggest profit in its 26-year history, while Facebook, Apple and Alphabet all beat estimates (Sky News).
Households buying high-end pet food online and stocking up on coffee helped Nestlé beat expectations for the first half, although the pandemic kept growth lower than a year earlier (The Financial Times £). Nestle cashed in on surging demand for high-end pet food as customers lavished attention on their cats and dogs during lockdown (The Telegraph).
Anheuser-Busch InBev, the world's largest brewer, said it sold more beer in June than a year earlier as drinkers celebrating the easing of lockdowns helped soften the impact of the pandemic (The Financial Times £). The owner of Stella Artois and Budweiser said yesterday that its British business had gained sufficient market share in the second quarter to become the biggest brewer by volume in the first half of this year (The Times £).
The FT's Lex colum writes: "For a company the size of Anheuser-Busch InBev, a $2.5bn write-off is small beer. The megabrewer, with an enterprise value in excess of €170bn, was able to offset much of that non-cash goodwill impairment with $1.9bn of proceeds from the sale of its Australian operations. Half-year numbers on Thursday beat market expectations. "Cheers," said investors, pushing the share price up a stonking 8 per cent in early morning trade." (The Financial Times £)
Procter & Gamble said the economic downturn had done little to hit global demand for its premium household products as consumers stuck at home go through more of its paper towels, tissues and dishwasher tablets. (The Financial Times £)
Nervous shoppers are still shunning the high street more than a month after non-essential stores were allowed to reopen, the Office for National Statistics has said. (The Telegraph)
If investors in Compass Group had been hoping for an early bounce-back from the Covid-19 crisis, they would have been left disappointed by yesterday's update. As well as reporting a 44 per slump in third-quarter underlying revenues, it predicted a continuing "slow recovery scenario" outlined in May. (The Times £)
L'Oréal said it will embark on an "aggressive plan of new product launches" and advertising campaigns in the coming months to spur people to start buying cosmetics again, despite the ongoing coronavirus pandemic. (The Financial Times £)
Heavily indebted French supermarket group Casino's shares plunged almost 13% after it reported higher second-quarter sales but weaker profits as Covid-19 pushed up costs. (The Financial Times £)
Reckitt Benckiser boss Laxman Narasimhan tells The Daily Mail how the company is investing $25m in a hygiene institute to fight Covid and keep the public healthy. (The Daily Mail)
Shoppers' use of plastic carrier bags in England has continued to fall – by 59% in the last year alone – since the introduction of the 5p charge, according to recent figures. (The Guardian)