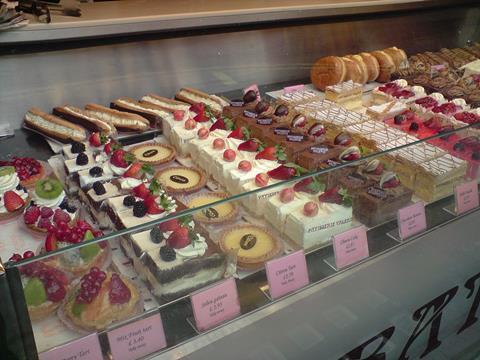 Scandal-hit cake and coffee chain Patisserie Valerie has secured the services of a new finance chief after a hiatus of almost two months (The Telegraph). Patisserie Valerie's parent company has hired a former boss of a veterinary firm as its new interim chief financial officer (The Daily Mail). Café chain Patisserie Valerie announced the appointment of an interim chief financial officer on Wednesday, a month after his predecessor resigned amid the company's near collapse (The Financial Times £).
Riders hired by food courier Deliveroo are not entitled to collective bargaining, the High Court has ruled. (The BBC)
US meatless burger maker Beyond Meat is cooking something appetising, writes The FT. If If plant-based proteins can replicate the success of dairy alternatives in the $1.4tn global meat market then Beyond Meat is looking at a possible $140bn market. (The Financial Times £)
The Times (£) looks at the regulatory threat to Amazon both in Europe and the US (The Times £).
The chief executive of ITV has said she believes Iceland's controversial anti-palm oil festive campaign should have been allowed to air on TV. (The Guardian)
Burger King is cooking up fresh beef with fast food rival McDonald's in a creative way to make customers download its app. If customers are within 600ft of a McDonald's in the US, they can unlock a deal giving them a Whopper burger for one cent through the Burger King app. (Sky News)
A Financial Times (£) collection of articles on the future of food and agriculture looks at how tech start-ups are helping to change the throwaway culture and cut food waste (The Financial Times £), the environmental case for going vegan and why investors are paying attention (The Financial Times £), how edible seaweed could combat plastic in the seas (The Financial Times £), why supermarkets should give up some margin to help hard pressed farmers (The Financial Times £), the robot revolution down on the farm (The Financial Times £) and how winemakers are looking to technologies ancient and modern to shrink their environmental footprint (The Financial Times £).