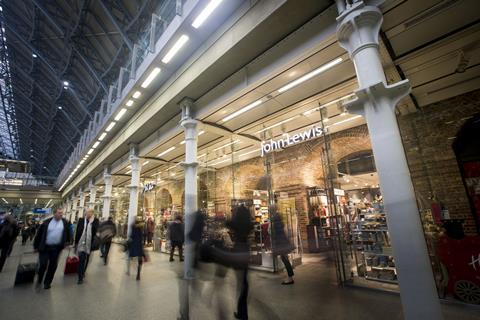 The owner of John Lewis and Waitrose is poised to cut the annual bonus it pays staff to the lowest level since the 1950s due to the pressure on retailers.
The John Lewis Partnership, which is owned by its staff, is expected to announce a bonus of between 6% and 7% of workers' annual salary. This would be a cut from a 10% bonus last year – when the average payout was £1,585 for its 91,500 staff – and the fourth year in a row that John Lewis has cut the award (The Guardian). The John Lewis Partnership is set to give its staff a "significantly" lower bonus this week as it steels itself for an acceleration in the shift to online shopping and rising inflation (The Times £).
Meanwhile, John Lewis is to equip 8,000 sales staff with smartphones so customers no longer have to wait while stock rooms are checked. (The Daily Mail)
Morrisons is expected to announce an increase of almost 11% in annual profits this week as its recovery takes hold. The numbers are a further boost for its chairman Andy Higginson and chief executive David Potts, who are trying to turn around the supermarket after years of falling sales (The Times £). Morrisons' turnaround will gather pace this week as the grocer posts its first jump in profits for six years and strengthens ties with Amazon. The City is hoping for a 54pc jump in underlying pre-tax profits to £335m as the supermarket chain plans to roll out Amazon lockers across its estate (The Telegraph). Supermarket Morrisons is expected to reveal its first profit growth in six years when it publishes results this week (The Daily Mail).
A top 10 investor in Premier Foods has called for the biggest shareholder in the maker of Mr Kipling cakes to make an offer for the company, or clear the way for a rival bid. The investor, which asked not to be named, said the Japanese noodle giant Nissin Foods' 19.7% holding in Premier was a "blocking stake", preventing a sale of the struggling food giant. (The Times £)
Business leaders have made a final plea to the chancellor to reduce the impact of changes to commercial rates that could double the tax bill for some firms (The Guardian). The revaluation of business rates next month will see London paying an extra £800m a year to support services in other parts of England, the Institute for Fiscal Studies said (The BBC). However, concerns about new business rates are "overstated", a think tank has claimed, arguing that the overhaul will cause average rates to rise in only two cities in England and Wales. (The Times £)
The Mail carries an interview with Aldi UK boss Matthew Barnes and asks how does the boss of German grocery chain Aldi plan to cope with Brexit? Simple: buy British. In fact, Barnes hopes to cast off the German tag altogether. Aldi UK, he claims, is the most British supermarket on the high street. 'Our British credentials speak for themselves,' he declares boldly. 'We're a hell of a lot more British than we've ever been. (The Daily Mail)
Britain looks set for a growth slowdown in the first quarter after figures showed a squeeze on the powerhouse services sector from household budgets "starting to crack". (Sky News)
Sir Philip Green is close to a second big deal on pensions, with a payment plan to address the deficit in his Arcadia Group empire (The Times £). Green is to pay tens of millions of pounds towards the pensions of workers across his Arcadia Group retail empire, in a concerted effort to reduce its £200m pension fund deficit (The Financial Times £). The owner of Topshop, Dorothy Perkins and other retailers will increase payments to £50m a year, after a deal was reached last week over BHS (The Guardian). The news may help fend off a fresh barrage of attacks on the billionaire over Arcadia, just days after he settled a long-running dispute over the BHS pensions black hole (The Daily Mail)
Unilever's brand of responsible capitalism should be lauded. A focus on sustainability drives long-term value, says Stewart Investors' Jack Nelson. (The Financial Times £)