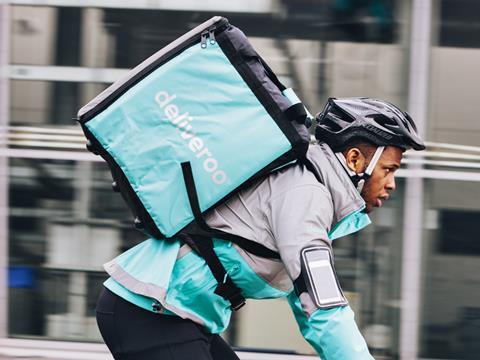 Deliveroo's shares perked up on their first open day of trading, although the improvement was clouded by a strike by hundreds of its delivery riders (The Times £).
More than 200 Deliveroo couriers joined a demonstration in London, riding their bicycles and mopeds from the Deliveroo HQ in central London, according to the strike's organisers, the Independent Workers' Union of Great Britain (The Guardian).
Deliveroo drivers reveal the human cost of Will Shu's ambition to become Britain's food delivery king (The Telegraph).
Deliveroo shares staged a mini fightback as they traded freely for the first time following what has been dubbed London's worst stock market debut (The Mail).
Alex Brummer in The Mail says 'Deliveroo is down but not out and could well prove the naysayers wrong'.
The Co-op Group will risk igniting a reputational row today when it announces that it will not repay all of the government funding it received during the pandemic – despite its 2500 food stores remaining open throughout (Sky News). Britain's biggest mutual will commit to a partial repayment of state support alongside its annual results, following weeks of talks between board members.
Shareholders in the world's second-largest brewer, Heineken, have been urged to rebel at the company's annual general meeting this month after its former chief executive received a €5.5m severance payment in defiance of the Dutch governance code (The Financial Times £).
Retailers have joined pubs and clubs in rejecting Covid status certificates, as the prime minister's plan faced growing opposition from business and parliament (The Guardian).
Supermarket sales soared last month as people spent £439m on confectionery before Easter (The Times £).
UK's sugar beet farmers are facing rising pressures (The Financial Times £). Future of production in question after disease and poor weather ravage 2020 crop.
Britons responded on the easing of lockdown rules last week by splashing out on golf, picnics and other newly permitted outdoor activities (The Times £).
Pub operator Marston's has said it is planning to reopen about 700 of its managed and franchised establishments with beer gardens in England next week (The Mail).