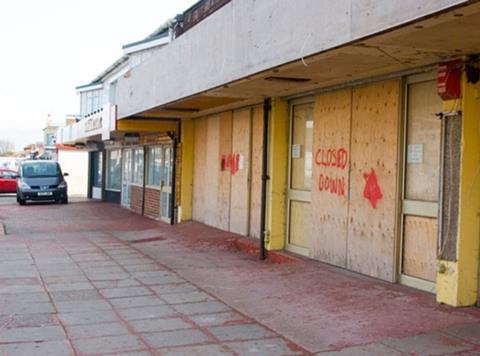 Top story
The national shop vacancy rate improved by 0.2% in the second half of 2015, according to the a new report from The Local Data Company.
The fall in vacancies comes as a result of over 800 previously vacant units being reoccupied. England has the lowest town centre vacancy rate (11.3%) followed by Scotland (11.7%) with Wales some points behind (14.6%), although it saw the biggest fall in vacancy rate in the H2 2015 (-0.4%).
Retail parks show the lowest overall vacancy of 6.2%, followed by towns (11.5%). Shopping centres continue to have the highest level of vacancy overall at 14.1%.
The number of total units in town centres that have been unoccupied for more than three years has risen in H2 2015 by 1% across GB. The North East has the largest percentage of total units that have been vacant for over three years (7.3%).
Most (25) of the 40 worst performing town centres in 2010 have improved their vacancy rate over the last 5 years. The town centre with the biggest improvement in the last 5 years was Brixton in Greater London, which saw a -12.2% drop in its vacancy rate. Preston saw the biggest increase in the last 5 years amongst the worst performers, with the vacancy rate increasing by +7.2%.
Matthew Hopkinson, director at the Local Data Company commented:
"2015 was an encouraging year for the overall health of our town centres, retail parks and shopping centres. There was evidence of recovery as a result of stronger consumer confidence and early signs of restructuring and regeneration having a positive impact.
"The wide improvements in vacancy rates across the country are a result of more shops being filled rather than a reduction in the overall stock. In part this is due to the significant expansion in leisure (food and beverage, and entertainment) outlets that continues at a pace but has raised concerns of a bubble."
"2016 has the potential to be another year of improvement if employment and wages continue to rise, and interest rates and inflation remain low. The fact, however, remains that Britain has too many shops, and we continue to build more, and many areas are blighted by this fact as seen by the thousands of shops that have no prospect of ever being reoccupied. Opportunity knocks for those who know where, what and how this is best done at the micro level."
Morning update
A typically quiet Friday morning sees just one trading update this morning – from vending machine firm SnackTime. The company said it expects to report a loss for the year to 31 March, before a small taxation credit, of approximately £4.4m (after an £8.5m loss last year) after a number of charges, including £1.3m of depreciation, a £934k impairment on assets and exceptional items of £499k.
Plus The Grocer has the story that Yeo Valley has bucked the general trend of tightening margins within the dairy sector by posting a "strong performance" for the 2014/15 financial year. Read the full story here.
The FTSE 100 has rebounded 0.5% to 6,159.1pts so far this morning. Tesco (TSCO) is again one of the market's biggest early risers, climbing another 1.6% to 189.2p this morning. There have also been rebounds at Ocado (OCDO), up 2.2% to 252.9p, and Poundland (PLND), up 2% to 168.8p, this morning after their tough weeks.
Other notable early movers include Tate & Lyle (TATE), up 1.1% to 576p, and Unilever (ULVR), up 1% to 3,088p.
Yesterday in the City
The FTSE 100 was down yesterday by 0.3% to 6,130.5pts after being edged downwards by a 6.2% drop in the shares of Costa Coffee owner Whitbread. Disappointing growth figures at the coffee chain sent the shares down 249p to 3,800p.
Elsewhere, it was a much better day for Tesco (TSCO) after a tough week with the supermarket up 2.5% yesterday to 186.2p. Morrisons (MRW) continued its strong progress this week, edging up another 0.7% to 206.7p, while Sainsbury's (ABRY) rose 0.9% to 264.3p. Ocado (OCDO) fell another 1.4% to 247.5p as fears persist about the impact of the Morrisons/Amazon deal.
Poundland (PLND) was down another 2.7% to 165.5p as the market continued to be spooked by the imminent departure of Jim McCarthy.
Elsewhere Associated British Foods (ABF) dropped 1.9% to 3,290p, while a reiteration of its buy stance on PZ Cussons (PZC) by Investec helped it up 3.7% to 289.7p.
Total Produce was up 5.3% to 122.5p yesterday after it announced double-digit revenue and profit growth, while Ahold and Delhaize both dipped 0.3% to €20.67 and €95.88 respectively despite both posting improved fourth quarter sales and solid full-year growth.