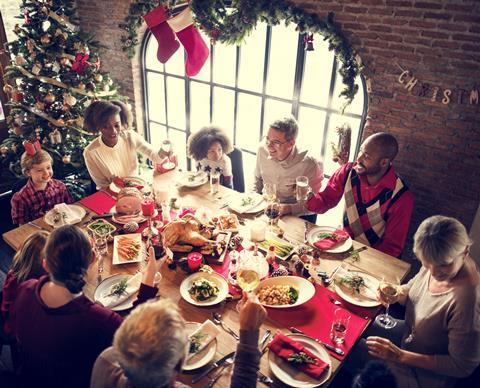 Grocery sales hit £11.7bn in December as shoppers splashed out on luxury items to celebrate Christmas. However, the take-home figures were below those achieved in the previous year.
According to the latest data from Kantar, sales through supermarket tills over the 12 weeks to 26 December reached £31.7bn.
Although down 3% versus a recordbreaking 2020, spending remained higher than it was pre-pandemic and sales were 8% stronger than in 2019.
The £11.7bn figure over the four weeks leading up to Christmas was just 0.2% behind a year ago when gatherings of family and friends were restricted.
Fraser McKevitt, head of retail and consumer insight at Kantar, said Britons seized the chance to enjoy Christmas with friends and family after last year's muted festivities.
He added the "lofty" spend figure in December suggested that while there weren't formal rules in place across the UK this year, many people celebrated at home again due to Omicron.
"We can really see just how much spending accelerated in December compared with earlier in the year by looking at the average trend during March to November when sales were down by 2.5% against 2020," McKevitt said.
Despite fears over rising Covid-19 case numbers in the face of the new Omicron variant, online sales fell 3.7% in December, compared with 2020, accounting for 12.2% of sales as in-store visits hit their highest level since March 2020, with 23 December being the busiest shopping day.
McKevitt said: "Food and drink spend peaked two days before Christmas. Shoppers clearly trusted that supermarket shelves would remain well stocked and they didn't feel the need to rush out much earlier to get their favourite festive treats."
Alongside Christmas indulgence, rising prices also pushed up shopping budgets, with grocery price inflation reaching 3.5% in December, adding nearly £15 to shoppers' average monthly grocery bill.
"We saw prices rise faster for a short while in spring 2020 when promotions were cut to maintain product availability, but before that you would have to go back nearly four years to January 2018 to see inflation running higher," McKevitt said.
Premium own-label sales broke records this Christmas and shoppers spent £627m on supermarkets' own upmarket lines over the four weeks to 26 December, an increase of 6.8% versus 2020.
McKevitt added: "The appetite to celebrate and splash out that little bit more this year pushed sales of luxury own-brand products up across the board. Sparkling and still wine sales grew 22% and 18% respectively, while crisps surged by 31%. Tesco's Finest and Sainsbury's Taste the Difference are easily the largest premium own-label ranges, but we saw the fastest growth from other ranges such as Asda Extra Special and Iceland Luxury."
Individual retailers found it challenging to secure year-on-year growth over the Christmas period following last year's highs, but every major grocer increased sales compared with the final 12 weeks of 2019.
Online specialist Ocado was the only retailer to buck the trend over the latest 12 weeks and grow versus last year, increasing its sales by 2.5%. At the same time, Tesco continued to gain market share, up by 0.6% to 27.9%, the highest it's been since January 2018. Aldi, Lidl and Waitrose also grew their shares by 0.3%, 0.2% and 0.1% respectively.
Second-largest grocer Sainsbury's now holds 15.7% of the market, with Asda on 14.2% and Morrisons on 10.1%. Independent retailers have a combined share of 1.6%. Meanwhile, 5.8% of the market belongs to the Co-op and 2.4% to Iceland.
While spending on many traditional Christmas dinner items was broadly similar compared with last year, there was ample evidence of people treating themselves and guests. McKevitt said: "There's no doubt many of us still love a mince pie, with sales of the sweet treats reaching £62m in December, a jump of 7% on 2020. A similar amount, £61m, was spent on Christmas chocolates too, with sales soaring by 21%. It looks like people came prepared for extra indulgent celebrations and indigestion remedy sales also rose by 8%. More bitter was the decline in sprout sales, which dipped by 3%, but the traditional green hasn't fallen out of favour just yet as almost half of all households in Britain served them up in December.
"We saw new dietary trends coming through in the data and plant-based foods proved particularly popular this year, even before Veganuary gets underway. Chilled vegetarian ranges increased sales by 6% while their frozen equivalents were boosted by 4%."
Morning update
Andy Bond is to step down from his position of CEO at Poundland owner Pepco Group, the discounter announced this morning.
Bond, who has enjoyed a ten-year spell with Pepco, including seven as CEO, will leave the group at the end of March dues to "health reasons", but he will remain as an advisor to the board until the end of the financial year.
Group COO Trevor Masters has been promoted to take over from Bond on an interim basis, supported by CFO Nick Wharton.
The board will immediately kick off a search process with external support and will evaluate internal and external candidates for the top role.
Bond said: "Every great journey must come to an end and it is with much reluctance that I have decided now is the right time to focus my energies on my health.
"It has been wonderful to help the business and our many talented colleagues grow and provide customers with great value products that they need throughout Europe and the UK. As I step down, I do it in the knowledge that the business is in great shape with a clear growth strategy, a fantastic team and a strong board. I wish everyone well in the future."
Chairman Richard Burrows added: "On behalf of the board, let me thank Andy for his successful leadership of Pepco Group over the last decade. Pepco Group today is a testament to Andy and the team that has built the business so successfully and with significant potential for future growth. We are fortunate to have in Trevor a highly capable and experienced executive who will lead the business while we undertake a thorough succession planning process."
Investment firm Supermarket Income REIT has added a further two supermarkets to its portfolio.
The group purchased a 84,000 sq ft Sainsbury's store in Tyne & Wear and a 82,000 sq ft Asda in South Wales for £55.1m.
Ben Green, director of Atrato Capital Limited, the investment adviser to Supermarket Income REIT, said: "These acquisitions are strong additions to Supermarket Income REIT's growing portfolio of omnichannel stores and in combination are accretive to both the weighted average unexpired lease term and net initial yield of the company's portfolio. In addition, the Asda acquisition provides further tenant diversification for the portfolio."
Logistics firm DX Group has opened two new depots in the West Midlands and South West as it continues to expand its delivery network.
Both depots will serve the group's DX Freight division, which specialises in the delivery of irregular dimension and weight items.
CEO Lloyd Dunn said: "We have found two excellent sites in Bodmin and Coventry. Not only do they add further capacity but they will help to enhance customer service levels. Investment in the depot network will continue to be a major focus this year, as we continue to drive the business forward, supported by our £20m - £25m capital investment programme."
The FTSE 100 is flat this morning at 7,499.46pts following yesterday's strong performance.
Early risers included Ocado, up 4% to 1,617p, Parsley Box Group, up 2% to 34.2p, Devro, up 1.5% to 206.5p, and McBride, up 1.4% to 59.8p.
THG continued its latest slide (see below) to fall a further 6.1% to 193.6p, while McColl's Retail Group fell 3% to 11.3p and Hotel Chocolat Group fell 2.6% to 506.5p.
Yesterday in the City
Optimism in the US and across Europe spilled over into the FTSE 100 yesterday as fears over the Omicron variant faded. The blue-chip index jumped 1.5% higher to 7,497.42pts.
There was little in the way of company news to drive stock prices as the City prepares for the glut of Christmas trading updates over the coming weeks.
However, as travel stocks helped drive up London markets, food and drink shares hit hardest by Omicron worries celebrated a strong.
Shares in SSP Group soared 7.3% to 257.5p, with WH Smith jumping 6.3% to 1,569p, Greencore up 5.5% to 136.6p and Coca-Cola HBC 3.5% higher at 2,645p.
THG's woes returned in force on the back of a story in the Mail on Sunday that shortsellers were once again betting on the group failing. Shares in the ecommerce business slumped 10% to 206.2p.
Hellofresh shares fell 9% to €62.88, Ocado tumbled 7.3% to 1,556p and Delivery Hero was down 6.8% to €92.18.