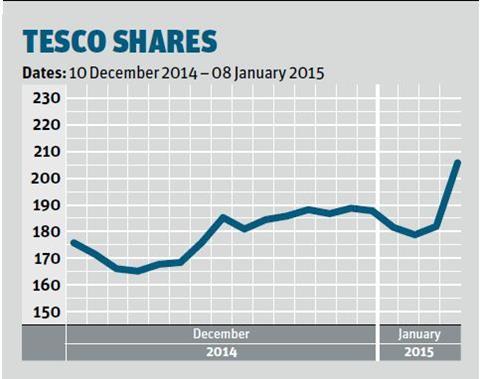 The supermarkets seldom saw any news that wasn't bad last year, so it is little surprise that the emergence of the first green shoots of optimism at Tesco was euphorically welcomed by the market.
The retailer's better-than-expected Christmas sales figures (down only 0.5%) and 'Drastic' Dave Lewis' determination to grab the Tesco bull by the horns with a number of radical decisions (see p5), was greeted by a 13.5% leap in Tesco's share price on Thursday morning. That took Tesco back towards just shy of the level it was trading at before the announcement in September that it had overstated its first-half profits by £250m (later revised to £263m).

The analyst reaction to Tesco's update was similarly positive, with Lewis' decisive action being seen as evidence someone is finally getting to grips with Tesco's longstanding problems. Bryan Roberts of Kantar Retail noted: "A long way to go, but Dave Lewis is pulling the business in the right direction." Bernstein's Bruno Monteyne commented: "Closing the 43 unprofitable stores makes sense, as there is no point retaining cash-draining assets."

There was further cause for cautious optimism elsewhere in grocery retail as Sainsbury's and Waitrose both came in with Christmas figures above expectations. For the five weeks ending Saturday 3 January 2015, Waitrose clocked up a year-on-year sales jump of 7%, while Sainsbury's confounded predictions of a 3.2% like-for-like sales drop with third-quarter revenues just 1.7% down. Investors were initially relieved enough to send Sainsbury's 4% higher to 246p on Wednesday morning but shares slipped back on fears over the tough 2015 outlook to end the day at 229.6p - 5.6% down since Monday morning.

Two retailers whose Christmas cheer ran out rather abruptly were Marks & Spencer and Majestic Wine. M&S's shares were down almost 4% to 445.1p by Thursday lunchtime on weak third-quarter GM sales, while Majestic's shares collapsed by 14.3% on Wednesday to 340.3p after warning it had eaten into its profit margins to achieve a 1.1% like-for-like Christmas sales boost.