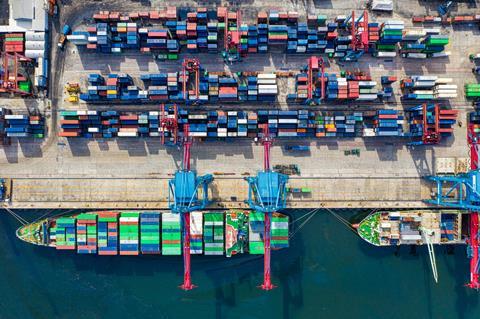 UK food and drink exports have plunged £2bn compared to pre-Covid levels due to a sharp drop in sales into the EU, according to the FDF.
The Food and Drink Federation found overall industry exports were down 4.5% to £9.2bn in the first six months of the year compared to the same period in 2020, and down more than 17% from the £11.1bn recorded in the first half of 2019.
The drop was driven by a 27.4% collapse in sales into the EU since 2019, which have dropped from £6.7bn to £4.9bn. EU exports so far in 2021 are also 15.9% down on the £5.8bn recorded in the first half of 2020.
The FDF said a combination of ongoing impacts of the pandemic and new barriers to trade resulting from the new trading arrangements drove the slump.
Exports to nearly all EU member states fell significantly, including a loss of more than £0.5bn in sales to the UK's biggest trading partner Ireland (a drop of 27.1%), while sales to Germany, Spain and Italy are each down by close to 50% since 2019.
The EU exports slump has been partially mitigated by a 13% rise in non-EU sales compared to last year, with exports outside the EU climbing to £4.3bn and accounting for around 47% of total exports, having been at less than 40% in 2019.
This year-on-year rise was driven by a return to growth in China, Singapore, Australia, Japan and the Gulf region.
The increase means non-EU exports are down just 1.5% from pre-Covid levels.
The fastest growing major export markets in the region were Colombia (142.6%), Mexico (111.2%), Chile (105.4%) and Brazil (87.2%), driven in particular by a recovery in sales of whisky and vegetable oils.
Overall whisky was up 31.4% year on year, while soft drinks rose 21.8% and salmon was up 17.4%.
However, a sharp drop in trade of products of animal origins were seen in both exports and imports with the EU, with increased regulation leading to a 26.1% export drop in cheese and 24.1% of beef.
Overall UK imports of food and drink were down nearly 10% in the first half of 2021 compared to pre-Covid levels, despite imports from non-EU markets increasing during this period. Imports from the EU were particularly badly impacted by the pandemic and the new trading relationship, falling nearly 15% since 2019, a loss of £2.4bn.
"The return to growth in exports to non-EU markets is welcome news, but it doesn't make up for the disastrous loss of £2bn in sales to the EU," said Dominic Goudie, head of international trade at the FDF. "It clearly demonstrates the serious difficulties manufacturers in our industry continue to face and the urgent need for additional specialist support.
"At the same time, we are seeing labour shortages across the UK's farm-to-fork food and drink supply chain, resulting in empty spaces on UK shop shelves, disruptions to deliveries and decreased production. Unless steps are taken to address these issues, the ability of businesses to fulfil vital export orders will be impacted."
John Whitehead, Food & Drink Exporters Association, added: "So many factors continue to impact on the drop in value of UK food and drink exports, with supply chain challenges and the inability to connect face to face with customers adding to the difficulties.
"It is therefore pleasing to see growth in sales to non-EU countries. However, this in no way replaces the loss of £2.2bn sales to the EU since 2019. There is growing evidence that the complexity of trading with the EU has led to businesses moving operations into Europe and of importers looking for alternative suppliers, contributing to the ongoing decline in both UK exports and UK jobs."