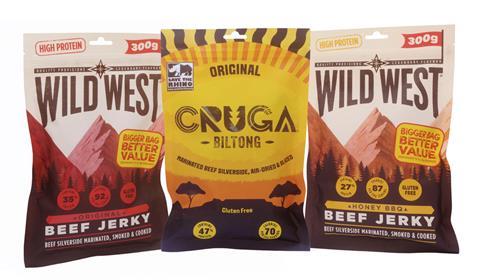 Valeo Foods has announced its first acquisition since its acquisition by Bain Capital, buying UK meat snacks group New World Foods Europe.
NWFE, previously owned by Australian-based entrepreneur Tony Quinn, is one of the country's leading players in the jerky and biltong segment, with brands including Kings, Wild West and Cruga.
The company has expanded rapidly through acquisition in recent years, after Quinn bought Meatsnacks Group in 2018 just six months after his purchase of the Kings Elite brand to create a competitor to Europe's biggest player, Peparami owner Jack Link's.
Now the group, which has overall revenues of around £25m and employs 120 people, will become part of the Valeo Foods Snacking Division headed by Ashley Hicks, which includes Kettle Foods, Tangerine Confectionary, Big Bear and Its All Good.
Meatsnacks Group was co-founded by James Newitt, who will continue to lead the company under the new ownership.
NWFE will ultimately report to Ashley Hicks, who is leading the continued growth of Valeo Foods' snacking division.
Seamus Kearney, Valeo Foods CEO, said: "NWFE is a great addition to our expansive portfolio of leading food brands and is consistent with our ambitious growth strategy.
"The acquisition of NWFE adds a new and very strong dimension to our snacking business and we are very excited about the growth potential of NWFE's portfolio of on-trend protein snacks and the opportunity to further develop the meat snacks category."
Valeo itself was bought by global private equity firm Bain Capital for around £1.5bn in May, with the deal expected to close in the coming weeks.
NWFE marks its 19th acquisition as it has built the international food business across the UK, Ireland and Continental Europe, with group-wide revenues now over €1.2bn.
Newitt commented "We identified Valeo Foods as the perfect strategic fit to leverage further distribution opportunities in all channels, particularly International and Convenience as well as benefit from a more holistic and localised ownership"
"The team are excited, with the support of Ashley Hicks and the wider Valeo team, to accelerate our growth strategy which includes some exciting NPD."