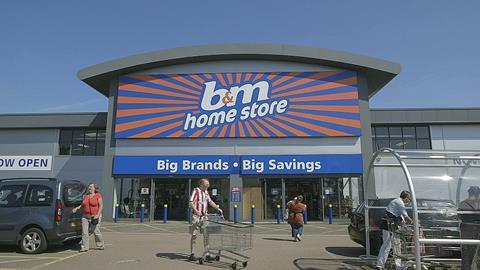 As general retailers suffered this week on a gloomy outlook for 2017, the City rushed to grab a piece of B&M European Value Retail, with discounters seen as a safe haven in uncertain times.
Shares in the group jumped 9.5% to 303.2p on Wednesday and climbed another 4% to 314.6p by Thursday lunchtime as the City digested a bumper Christmas trading update – in which a run on Christmas decorations and crackers by new shoppers looking for a bargain also drove sales in homeware and fmcg, leading to a 7.2% increase in UK like-for-like revenues and a record festive performance. Excluding cannibalisation from the 14 new stores in the 13 weeks to 24 December, like-for-like sales rose to 8.4%, though 1.1% was thanks to an extra trading day.
It was welcome news for investors after five quarters of broadly flat like-for-likes as new space growth took centre stage. B&M group revenues increased 22% to £789.1m, including the German business Jawoll, with UK sales coming in at £741.4m.
Investment bank Jefferies said B&M was a stock for good times as well as bad. "B&M is well-positioned to take share in a UK consumer slowdown and its German expansion is exciting," analysts added. Liberum retail analyst Adam Tomlinson said: "B&M has a superior disruptive multi-price model which should, in a period of uncertainty, lead to out-performance."
Jonathan Pritchard at Peel Hunt added that B&M was in a strong position heading into 2017 as consumer uncertainty would play into the hands of discounters. "Here is a business with serious momentum, in the right part of the retail sector with strong management and an overseas plan."
Britvic snapped up Brazilian concentrate manufacturer Bela Ischia Alimentos for £54.5m this week, in a deal that could create "substantial" synergies in the country, it said. Although smaller in size than its previous acquisition, the a £54.5m deal for Empresa Brasileira de Bebidas e Alimentos (Ebba) in the country in 2015, SG analysts upgraded Britvic's price target to 680p and called the new deal "a sound strategy".
"Brazil is the leading concentrate market in the world, and [the deal] diversifies Britvic away from its reliance on mature soft drinks markets." Britvic rose 1.3% to 574.5p on Tuesday and by Thursday lunchtime had gained 3.4% for the week to rise to 585p.
Finally, the high street was rocked by a poor Christmas trading update from clothing stalwart Next on Wednesday, which caused negative ripples across the general retailers. Those grocery businesses with most exposure to clothing were particularly hit as Next's shares slumped 14.5%, with M&S down 6.1% to 323.4p and Primark owner Associated British Foods down 3.7% to 2,610p.