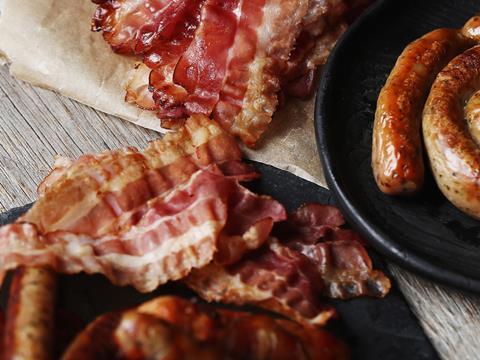 Brits are paying more for budget bacon as China's African swine fever crisis begins to hit home.

Prices have also crept up on ham, sausages and fresh pork SKUs in some supermarkets in recent months, research by The Grocer suggests.

Tesco has this week added 10p-20p to most of its Woodside Farms range, such as Woodside Farms Pork Chops (700g), up by 19p to £2.61 and Woodside Farms Unsmoked Back Bacon (300g), up 13p to £1.17 [Edge by Ascential 1 March to 17 June 2019]. It has also added 5p-10p to over 70% of its Eastman's range of sliced cooked meats, including Eastman's Crumbed Ham 125g, up from 75p to 80p.

Prices have also gone up on some of Tesco's standard bacon and ham SKUs, such as Tesco Unsmoked Streaky Bacon (300g) and Tesco Smoked Streaky Bacon (30g), up 20p to £1.95.

Asda has also increased prices on selected ham, bacon, sausage and pork SKUs in recent months. Since April, it has added 5p to packs of eight Butcher's Selection sausages, up from £1.45 to £1.50, 84p to Butcher's Selection Pork Chops (1.2kg), now £4.36, and 30p to Asda Farm Stores pork belly slices (750g), now £4.50. Asda Farm Stores Unsmoked Streaky Bacon Rashers (275g) are up from £1.09 to £1.25.

Waitrose has also increased prices for some of its British-sourced pork products, such as six-packs of Waitrose 1 free-range British pork sausages, up 20p to £3.49 and Waitrose Beech Smoked Bacon Bits (200g), up 10p to £3.09.

The price hikes follow a surge in EU and British pig prices in recent months as increased demand from China, which has slaughtered over a million pigs as it struggles to control an outbreak of African swine fever, puts pressure on supplies.

The EU-spec SPP rose another 1.38p in the week ending 8 June to 147.85p/kg, according to the AHDB, while the UK-spec SPP increased by 1.34p to average 145.18p/kg. "This is the ninth consecutive week of price rises," says the AHDB.

A 0.7% dip in pig production across the EU28 in the first quarter of 2019 is also putting further pressure on supplies of pigmeat. Germany recorded the biggest drop of 3.8% compared to Q1 last year, but the Netherlands and Denmark have also reduced production [Eurostat].

Industry reports suggest there is also "decent underlying demand for pork at the moment", says the AHDB. "Indeed pork has been performing better in the retail environment lately, with volume sales up 1% in the year to 19 May."

"It's well known that there are cost headwinds across the pork market at the moment but we're working hard to minimise the costs getting passed onto our customers, and they can be reassured we're doing everything we can to offer them great value on their shopping," said an Asda spokesman.

Tesco and Waitrose didn't comment on the price increases.