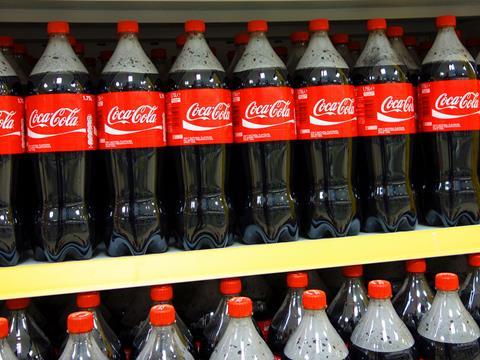 As CCEP looks to make a splash with cold coffee, iced tea and dairy-free smoothies, latest data suggests it has scaled back promotional activity on its flagship carbonates brand.

There were 126 featured space promotions on Coca-Cola SKUs in the mults last month, over a fifth fewer (-21.4%) than in December 2017 [Promo Dynamic Brands 4 w/e 21 January 2018].

It was the biggest month-on-month drop of any top 10 brand, with more moderate reductions from Cadbury (-4.9%), Birds Eye (-0.5%), Nestlé (-2.1%), Walkers (-4.9%) and Mars (-16.9%). McVitie's (6.1%), Mr Kipling (4.8%), Heinz (27.1%) and Kellogg's (25.0%) all scaled up activity on December.

"As to be expected in the lead-up to Christmas, more promotions were available last month from the top 10 biggest promoting brands," says Assosia director Kay Staniland. "However the month-on-month difference is incredibly small at just 0.2% (11,755 now compared with 11,776 this time last month)."

Coke also cut the number of promotions in stores by 5.6% compared with last January, beaten only by Nestlé, which cut activity by 24.6%. And while average savings remained relatively flat on Nestlé promotions, Coke was also the only top 10 brand to offer lower average savings both month on month and year on year.

"Looking at the savings related to the top 10 brands, 90% have seen savings increases month on month - in contrast to Coca-Cola, where savings have fallen by 7.3%," adds Staniland.

This could reflect a shift back to multibuys by the brand, which increased bogofs and x for y deals. Multibuys accounted for 57.9% of its total deals, up from 54.3% in January 2017.

In line with the drive towards 'healthier' checkouts, Coke has also reduced its reliance on the till aisle, which accounted for 30.2% of the brand's total featured space promotions in January, compared with 36.4% last year. It increased promotions in the back aisle, which accounted for 25.4% of total deals, up from 13.6% this time last year.