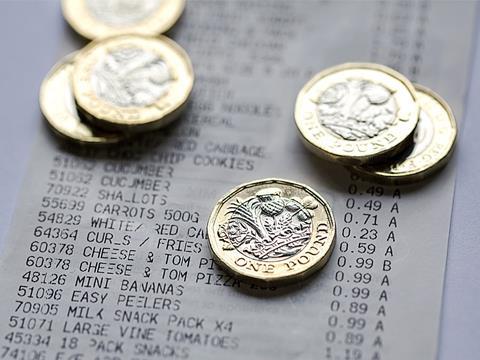 British shoppers are no doubt breathing a collective sigh of relief over Sainsbury's boss Mike Coupe's claim today that the pace at which food prices are rising in the UK will slow this year.
It's been a bruising 18 months for consumers since the Brexit vote sent sterling crashing – particularly given the long period of deflation they had enjoyed on the back of the supermarket price wars.
So Coupe's prediction that food price inflation should "gradually reduce over the next six to nine months" – made to the BBC as the retailer announced its Christmas trading results – will be welcome in many households.
Coupe has been right on food prices before – with his warning last March that the pound's weakness since Brexit would lead to further inflation throughout the year proving depressingly accurate. And his latest prediction echoes The Grocer's own analysis on what will happen to food prices in 2018, which found that an improved production outlook for key global commodities and the levelling out of sterling should bring some stability to shopping bills this year.
While the ongoing Brexit negotiations could have a further impact on the exchange rate over the next 12 months, it's unlikely the pound will slide as dramatically as it did straight after the EU referendum, which should temper inflation.
That doesn't mean shoppers won't face any food price inflation this year, though. Keen to keep prices down, retailers have put huge pressure on some supply chains, which are still struggling to absorb the extra costs from the initial plunge in the pound.
And while the outlook for global food commodities is generally good, you can never rule out the possibility of a catastrophic weather event playing havoc with production. Just look at Florida, where the impact of Hurricane Irma means the US state is set to produce its lowest orange crop since 1945.
But what shoppers – and retailers - should really be worried about is what will happen to food prices after the UK leaves the European Union.
Even our pro-Brexit environment secretary Michael Gove has admitted food prices would rise if the UK failed to reach a free-trade deal with Europe – because Britain would not adopt a zero-tariff approach if trading reverted to WTO rules.
According to recent analysis by the National Institute Economic Review, annual shopping bills could rise by up to £930 under a no-deal scenario – which would be a significant hit for the poorest families in the UK.
PM Theresa May insists the government will be able to secure a deal before the 29 March 2019 deadline, but time is ticking. Particularly given the EU's warning that any post-Brexit transition period should not continue beyond 31 December 2020.
As FDF director Ian Wright wrote in The Grocer in December, progress on Brexit must continue at pace in 2018. Or this easing of food price inflation will be very short-lived indeed.