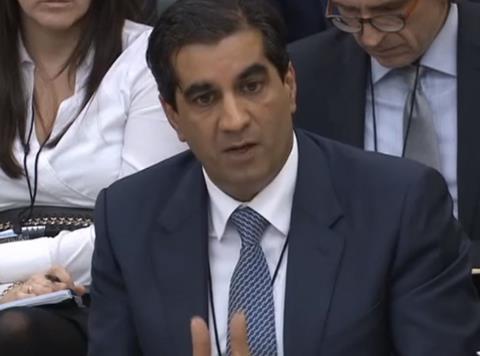 2 Sisters Food Group has defended a "goodwill gesture" of biscuits sent to the Commons Efra Committee after chairman Neil Parish slammed the practice as "inappropriate".

The food manufacturing giant sent individual members of the Committee hampers containing a variety of Fox's and its own label biscuit lineup over the Christmas period. It follows CEO Ranjit Singh's appearance in front of Efra in October to answer questions on the 2 Sisters chicken scandal.

However, the gesture was flatly rejected by the Committee, with a sternly worded letter from Parish to Singh dated 17 January bemoaning the "receipt of unsolicited gifts" from 2 Sisters - which were unwelcome, and an "inappropriate gesture on your part and an unwarranted attempt to impugn the Committee's impartiality", he said.

"In all cases, they were either donated to a local charity or returned to 2 Sisters," Parish added.

However, 2 Sisters played down the row by describing the hampers as nothing more than a "goodwill gesture" and standard practice for the business in its external relationships.

A spokesman for the supplier also took issue with comments by Committee member Paul Flynn, after the veteran Labour MP suggested half of Efra's membership had received a "£100 hamper loaded with biscuits and other goodies".

Each gift contained about eight packets of Fox's and own label biscuits, in addition to two tins or boxes of Fox's biscuits, the spokesman said. "The contents were the standard supermarket biscuits we make, such as crunch creams (which retail for about £1), and Viennese slices," he added. "The total retail value of the gift was around £20."

Flynn described the whole affair as "biscuit-gate" in a blog post, before adding "biscuits will never buy us" and noting the source of the donation was "the head of a company whose conduct is being probed by the Committee".

He added: "Should the favoured recipients be flattered or insulted? Can their integrity be corrupted with hampers? We self-righteous members congratulated ourselves that we were denied our biscuits because we had done our duty and sharply probed the donor."
The row came in the same day 2 Sisters agreed to a deal to sell its frozen pizza brand Goodfella's to Birds Eye owner Nomad Foods in a €225m (£199m) deal. The 2 Sisters spokesman said Singh would respond formally to Parish and the Committee in due course.