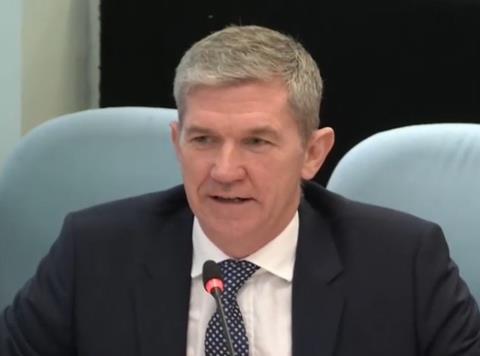 FSA chief executive Jason Feeney has insisted there has been "no cover-up" over its handling of the Russell Hume meat scandal, amid mounting pressure to clarify the exact detail of its investigation into the meat supplier.

In an interview on BBC Radio 4's World at One programme today (26 January), Feeney defended the FSA's response to the scandal as "proportionate" for an ongoing investigation.

Russell Hume became embroiled in the latest scandal to hit the meat sector earlier this week when pub chain Wetherspoon announced it had pulled all of the supplier's products from its 900 outlets due to concerns over what it described as "quality issues" and "mislabelling".

Specific detail into what offence the supplier is alleged to have committed has so far been limited, with a statement published by the FSA on 24 January suggesting it was "concerned about the poor practices in place at their premises".

A number of other foodservice operators, including Hilton Hotels, Tiger Tiger, Marston's pubs and Butlins are also reported to have been affected, while The Grocer can confirm the affected meat was Red Tractor assured.

Feeney told World at One presenter Jonny Dymond that the FSA's concerns over non-compliance with food hygiene regulations began after a random inspection at Russell Hume's Birmingham factory on 12 January.

While the FSA did not have any serious misgivings at that point, its decision to widen its investigation into the supplier's other plants and products held in cold stores led it to become concerned "of a systemic and widespread problem", which was "more serious in terms of its scale and nature", Feeney said.

On 19 January, the FSA decided "to stop all production at these plants and to detain all products", before finally issuing a recall on 23 January, he added.

When questioned why there had been such a gap between the call to stop production and distribution and a recall of all products - a move slammed by several national media outlets today - Feeney said the FSA had been "establishing with the company the extent of the recall and the period of the recall".

It comes as the FSA was already facing scrutiny over the effectiveness of inspection systems, and the lack of information sharing between various audit bodies - problems highlighted by the Commons Efra Committee in the wake of September's 2 Sisters Food Group scandal.

The Chartered Institute of Environmental Health yesterday called for an "urgent independent review of processes and procedures surrounding FSA approved premises", and for the FSA to "put consumers first and properly explain the situation and their actions".

However, Feeney stressed there was "no evidence" people had become ill from any Russell Hume products. "The company has not been able to demonstrate they've got a sufficiently robust food management system in place, and that's why we have taken this action," he said.

He pointed out the FSA was already pushing for reform of the inspection system to give it "more access as a regulator to audits and inspections consulted by Red Tractor, other bodies and retailers, so that we get a fuller picture".
Suspended Red Tractor licence
In a statement, Red Tractor said it was informed on 24 January of an ongoing FSA investigation into poor food hygiene practices at Russell Hume meat processing sites and, subsequently, the suspension of its BRC Global Food Standard for Food Safety certificate.

"Red Tractor withdrew Russell Hume's processor packer licence immediately, pending a full investigation, as they no longer meet our strict licensing criteria. This means that no meat processed on any Russell Hume site can carry the Red Tractor logo or be sold with a claim to be Red Tractor Assured until we are confident that our rigorous standards are being fully adhered to," it added.

"Red Tractor staff are liaising with personnel from the Food Standards Agency and the BRC, whose meat processing standard Russell Hume are certified to."

Apart from a previously published statement where it pointed to its 50-year unblemished record, Russell Hume declined to comment.