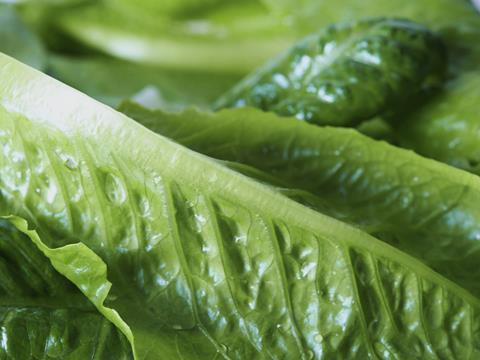 Fruit and veg growers have defended standards across the sector after research funded by the FSA revealed the presence of norovirus in produce sold across UK supermarkets.
Some 5.3% of 568 samples of lettuce tested by researchers at Fera Science were found to contain the winter vomiting bug, with 3.6% of the 274 frozen raspberries and 2.3% of the 310 samples of fresh raspberries contaminated.
The survey, published in scientific journal Food Microbiology, is part of the FSA's wider Norovirus Attribution Study, which is assessing the contribution made by the food chain to UK-acquired norovirus infections, and will be published next year.
The results showed the need "for implementation of effective food safety management of foodborne viruses", Fera's research paper said, and indicated "serious negligence" by food suppliers and retailers, the researchers told the Sunday Times.
"One should not expect to find a norovirus in one's lettuce or raspberry," they said. "When the virus is detected it is clear that guidance [on food hygiene] is not being adhered to and that in consequence the pathogen is entering the food supply chain."
But following a series of negative media headlines yesterday, Fresh Produce Consortium spokeswoman Siân Thomas pointed out no norovirus outbreak in the UK had yet been "positively implicated to fresh produce contamination", while testing did not indicate the virus was infectious.
"The fresh produce industry is committed to maintaining high standards through good agricultural practice, hygiene preparation practices and packaging to minimise the potential for contamination of fresh fruit and vegetables," Thomas added.
And while adding the food and drink sector "must never be complacent" about food safety and the impact of foodborne outbreaks wherever they occur, outbreaks linked with the contamination of fresh produce "are rare in the UK", she stressed.
Her comments were echoed by British Summer Fruits chairman Nick Marston, who said all fresh produce should be washed before consumption, but added "we are disappointed that the virus has been detected in frozen and fresh raspberries at all".
He said: "Berry growers all over the world work very hard to provide safe, tasty, high quality produce to UK consumers. They operate to the highest standards. Supplier and retailer codes of practice with regard to hygiene on farm and in packing facilities are strict, and growers' practices are regularly subject to both supplier and independent third-party audits.
"Consumers can be assured that BSF members who represent the great majority of fresh berries sold in the UK will be taking all necessary steps with their growers and packers to prevent any recurrence of this issue."