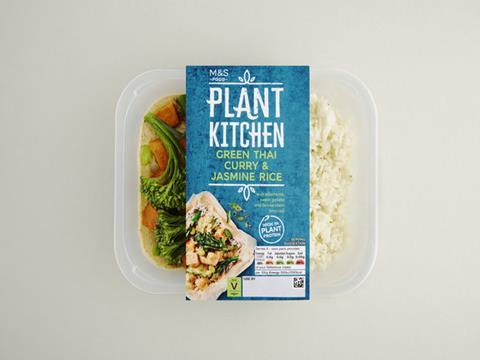 Marks & Spencer has come under fire over small print on its new Plant Kitchen vegan range which warn products are "not suitable for milk or egg allergy sufferers".
Some of the 60-strong plant-based range - launched last week - is produced in factories which also handle products containing animal derived allergens, including egg and milk.
Allergy sufferers took to social media to complain about the "misleading" vegan labels.
'That's like putting out gluten free products with a gluten allergy warning on them,' complained Twitter user Cary Charles. 'It basically indicates that you have a contamination issue with your manufacturing plant.'
The retailer told disgruntled consumers on Twitter that 'if an item is made in a factory where allergens are handled, we won't label as suitable for these allergens'.
It said it had engaged with both Allergy UK and the Vegan Society during the products' development, stressing that while the products were 100% vegan, with a list of ingredients entirely free of animal products, tallergens may have been present in the environment.
The Vegan Society website states it 'is not against foods labelled as vegan also carrying a 'may contain' warning about animal allergens' and would not withhold its accreditation on those grounds.
The society's mission was to 'exclude, as far as is possible and practicable, all forms of exploitation of, and cruelty to, animals', which it considered a separate issue to allergies.
An M&S spokeswoman said: "We ask all our manufacturing suppliers to complete a robust allergen risk assessment to identify any potential risk for cross contamination in the raw material supply chain and within the manufacturing environment. This includes the potential for process equipment to be a cause of cross-contamination, contamination from personnel or the factory environment.
"Using the risk assessment we agree appropriate controls with the supplier to manage this risk. This includes segregation of production and storage areas to prevent physical cross contamination. Between non vegan and vegan production there is a fully validated clean. This approach is validated and verified on a routine basis and independently audited by our third party audit service provider."