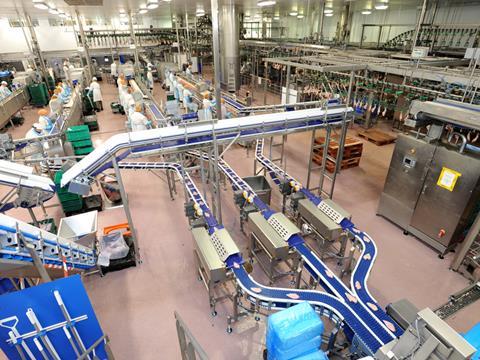 Moy Park is introducing robotics and allergen-free production at two of its factories in Lincolnshire, as part of an £18m upgrade to its manufacturing capabilities.

It includes the creation of a fully contained gluten and dairy-free factory at its Grantham site, as part of a drive to improve its free-from offering, and the installation of new mixing and processing equipment, costing a total of £12m.

The supplier has also invested £6m in automation at its Anwick plant, rolling out new pick and place robotics that weigh and place fillets in trays, allowing the factory to increase volumes. A £6m spend has also seen the factory's layout revamped.

"We are committed to continued investment in our production facilities to ensure that we are able to lead the industry in innovation, food safety, quality and efficiency," said Moy Park supply chain director, Keith Irvine.

"These investments in state of the art processes will enable us to take another large step forward as a business and will provide fantastic development opportunities for our people."

The firm has increased production by 20% since 2015 to claim 30% of the UK poultry market. It last week announced it had surpassed production of 6 million birds per week, following the opening of a £20m hatchery in Newark-upon-Trent with capacity to hatch 2.5 million birds per week.

The company was bought by US poultry giant Pilgrim's Pride in a $1bn deal last year, and has since hired former Greencore US boss Chris Kirke as its CEO.