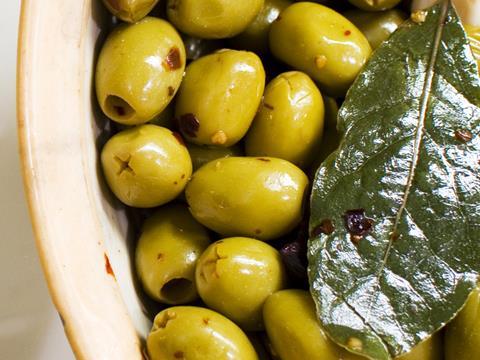 Law enforcement agencies are warning of a new type of food fraud on the rise in the fresh produce sector, which involves criminals using copper sulphate to artificially enhance the way products look and feel.
The practice was exposed recently in a major case in Italy, where officials seized more than 85 tonnes of table olives that had been coloured with the substance.
Copper sulphate was not routinely searched for during food fraud investigations, which was why criminals were switching to it having previously used substances with chlorophyll to make produce look greener, according to an account of the case detailed in a report on Operation Opson V, an international anti food fraud operation coordinated by Interpol and Europol.
"The illicit treatment has two advantages for the fraudsters," said the report. "To obtain a much more intense and uniform colour on all fruits and to recycle olives produced in previous years which had lost their original colour."
Copper sulphate is allowed to be used in agriculture, but the samples seized in Italy contained more than twice the legal limit.
Vegetable oils are an easy target
Overall, Operation Opson V found condiments was the food category most vulnerable to food fraud, accounting for 66% of all seizures based on tonnage, with vegetable oils particularly affected. "Vegetable oil can easily be counterfeit or tampered and is therefore highly targeted by criminals," the report said.
Key cases from Opson V, which ran in 2015 and early 2016, included a 7,000-tonne seizure of fake extra virgin olive oil in Italy, and a seizure of palm oil in Thailand coming from Malaysia, which had been misdeclared to evade taxes.
There was little detail available on operations in the UK bar a report of nearly 10,000 litres of fake or adulterated alcohol being seized.