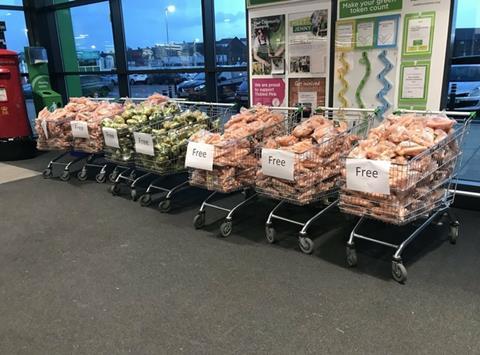 Food waste sources have slammed supermarket giant Asda after it gave away large volumes of surplus Christmas vegetables to the public.

Asda this week insisted it had struck the "right balance" between ensuring Christmas availability and avoiding food waste.

However, several of its stores across the country ended up giving away large amount of free Christmas food, with customers taking to social media to attack the company for not giving the surplus to charities.

And not just customers. One food waste insider said: "The volume of food we are talking about was eye watering. If charities had known they would have surely laid on coach loads of volunteers to take this food to people who needed it rather than just give it away."

On Boxing Day the supermarket let customers have vegetables including brussels sprouts, parsnips, carrots and broccoli for free, in locations including Sheffield, Newcastle, Leeds and Edinburgh.

Store bosses labelled the food with signs saying 'Free to a good home!' or 'Have this one on us!'.
Asda announced last year it was to plough at least £20m into FareShare and The Trussell Trust, in what the charities welcomed as an "unprecedented" breakthrough in the battle against food poverty.

The commitment, aimed at helping a million people over the next three years, will include the Walmart giant paying for refrigeration equipment for the charities so they can ramp up their redistribution of fresh food.

FareShare CEO Lindsay Boswell said the charity had "extended the help we give to charities over Christmas and this year we achieved a record amount of donations", but admitted it was in talks with Asda in a bid to ensure that in future it could increase the amount of food received from such surpluses.

"We very much value our relationship with Asda and will be talking to them to see if there is more we can do together in this sort of situation," he said.

An Asda spokeswoman said the decision on whether to give away food had been taken at a "store by store level".

"We wanted to make sure we had good availability and the key thing for us that it's done on a store by store basis. It's not as if we have had huge volumes of surplus across the whole estate.

"For us it is important to strike a balance between availability and avoiding food waste."