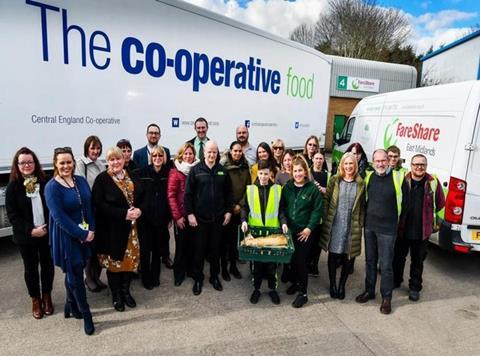 The Central England Co-operative is set to roll out a scheme redistributing store surplus to charities following a successful trial.
The pilot across nine of its Leicester stores saw the equivalent of more than 12,000 meals delivered to charities and will now be extended to all 329 stores over the next 12 months benefiting over 250 Midlands' charities, say the cooperative
The scheme run in partnership with FareShare East Midlands sees the retailer use its own distribution vehicles to collect and deliver store level surplus straight to FareShare depots, with deliveries up to twice per day rather than waiting for collections from charities themselves. The model allows surplus to reach organisations in an agreed maximum timeframe of 48 hours, say the retailer, extending the type of produce that it will consider for redistribution to include items such as bread and pastries.
Once rolled out the scheme is predicted to cut food waste by at least 40%, say the cooperative, with a long-term goal of 100%.
It added that the success of both the pilot and subsequent rollout was helped by new guidance on date labels published by the FSA, Defra and Wrap in 2017 which reiterated the safety - and legality - of redistributing food beyond its best before date, extending further the items it can consider for redistribution.
The same guidance also pointed out this food could be legally sold in stores, something which has been adopted by the East of England Co-Op and saw it walk away with the Grocer Gold Waste Not Want Not award last week. The cooperative said it wasn't ruling out a similar scheme in future but would be focusing on its current project for now.
"Food waste is a topic customers and colleagues regularly talk to us about and it is an area that has always been at the forefront of plans at the Co-op," said Hannah Gallimore, corporate responsibility manager at the Central England Co-operative. "We have been looking for a solution to this issue for many years and are proud to reveal our plan to tackle food waste in a manner that also has a major impact for our communities and partners.
"The scheme also stands out because we believe it is the first of its kind to use an existing distribution network to collect items and deliver them to charity."
Simone Connolly, FareShare East Midlands' director, said its combined effort with the Co-op "will ensure that thousands more people across the region will have access to perfectly edible food that would otherwise be wasted. While we acknowledge that we're not able to lift people out of poverty, we can ensure that good food isn't wasted when there is a real need for it thanks to this ground-breaking partnership with the Co-op."
Wrap's head of business collaboration, David Moon, said: "We are delighted that the Central England Co-op is to expand its programme for surplus food redistribution. It is a bold ambition to reach 100% redistribution for food past its best before date, but as our latest date label guidance clearly shows, a best before date should never be a barrier to good food being eaten. We are delighted the society has used our guidance to help expand this important programme."