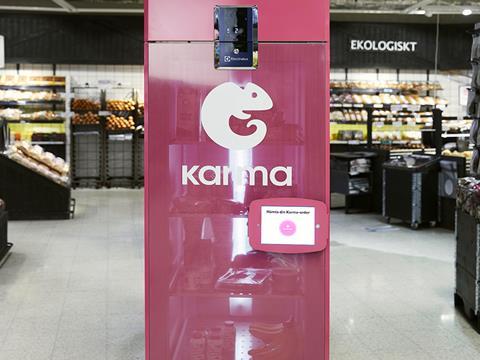 Swedish food waste app Karma has linked with Electrolux to test a smart refrigerator for grocery stores.

The "beta" version, launched on Tuesday 6 November, enables Karma users to buy reduced-price surplus chilled goods stored in a connected refrigerator at the entrance to the ICA Kvantum Liljeholmen store in Stockholm until the end of the year.

Users unlock the connected refrigerator, which is equipped with a "smart" lock, by using a QR code through the app.

Customers are required to show food purchased to the store staff to prove they are not taking extra items from the refrigerator, and have collected their own ordered surplus food items.

Karma, which launched in London in February this year, works by businesses uploading details of their surplus food to the app and consumers placing an order and paying for the food through the app before collecting it at a specified time.

Key partners include Aubaine, Deliciously Ella, Taylor Street Baristas, Whittard of Chelsea, Farm Shop Spitalfields & Androuet Cheese Shop, which sell surplus food to consumes at a lower price via the app.
The app has 400,000 users and works with more than 1,500 connected businesses across Sweden and London - more than 50,000 of them in the English capital.

Hjalmar Ståhlberg Nordegren, chief executive and co-founder of Karma, said 25,000 items had been rescued to date via its London retailers - equivalent to an estimated nine tonnes of food rescued from landfill.

"The partnership with Electrolux has allowed our initial idea of reducing food waste to gather speed and our company to grow, while also adding the knowledge and experience of an established business, which we, as a startup are still in the process of acquiring.

"The fridge is the first step in our common effort to rescue more food from landfill and to protect the environment."

A spokesman added that there were no current plans to launch the Electrolux/Karma refrigerator model in the UK but there was no reason why it would not. "It makes sense that it would," he said.