It almost ruined Christmas. A frozen turkey straight from Tesco with a long-expired 'best before' date pasted to its pimpled thigh. "I hate to think what could've happened," ranted retiree Jacqueline Evans to The Sun in November last year, terrified both she and her elderly husband could have been laid low by the four-month-old bird.

Tesco was quick to apologise and handed an incensed Mrs Evans her refund. It also chucked out any more turkeys past their 'best before' prime.

Yet no one was at risk. Nor did the supermarket break any law. And this is not an isolated incident. It's happening every week in enormous quantities: out of date food (that was still safe to eat) was the single biggest cause behind the 270,000 tonnes of food binned or sent for incineration by retailers in 2014/15, according to last month's landmark Wrap report. Changes to policy could help retailers free up an extra 105,000 tonnes of edible food for redistribution by 2025, they added.

Some of this waste comes down to strict supermarket policies. But are they too strict? And plenty could be saved if charities relaxed their own less rules too, argued Wrap. Added to that is consumer confusion about the differences between 'use by', 'sell by' and 'best before' labels. So what are the laws? Could they be safely adjusted? And what would be the impact?

Use by

Though all date marks influence behaviour, only one carries the risk of criminal prosecution: the 'use by' date. Under the UK's General Food Law it is an offence for food businesses to sell or distribute food beyond this date and offenders risk hefty fines. Tesco was forced to pay £7,000 in 2006 after Trading Standards officers stumbled on products past their 'use by' date, and only this month Asda appeared at Nottingham Magistrates Court to deny selling cooked ham beyond this legal threshold.

But Wrap has questioned if 'use by' dates are too conservative, arguing there is the potential to cut out 250,000 tonnes of food waste if shelf life were judiciously extended.
Head of TiFSiP Jenny Morris disagrees. "My advice to anyone is don't go past use by dates," she says. "There will likely be some latitude in it but what you can't do is assume every bit of the journey of that food has been under proper temperature control."

It would also be completely inappropriate to either sell or redistribute food to charity beyond its 'use by' date, she adds. "The one that really gets the goat is dumpster diving," she says. "I'm very keen you don't waste food. If it's edible it should be used for that purpose. But I'm also very keen that safety is maintained. A lot of food that goes to charities goes to people who are in difficult conditions. They must have the same absolute guarantee of safety everyone does."

To flout the rules "risks throwing into disrepute all those people that work terribly hard to use surplus but make safety their first criteria," she adds.

The major mults agree. All stick to policies that redistributed food must be within its 'use by' date, though Tesco does donate food on the day provided it can be frozen and the charity is able to handle the food safely.

But while 'use by' dates are legally enforced, neither 'best before' nor 'sell by' dates carry the same clout.

Dreamt up in an M&S storeroom in the 1950s, 'sell by' dates are little more than a supermarket tool to track stock rotation. "They don't have any function for a consumer," says Kevin Hargin, head of foodborne disease control at the FSA, which joined forces with Defra in 2011 to call for their removal.

Supermarkets have listened. None of the major grocers now use 'sell by' dates after phasing them out over the past few years, including M&S and the discounters.
How one extra day could make all the difference
Extending product life by only 24 hours could prevent 250,000 tonnes of food from being wasted, according to research by Wrap.
For its 2015 study, the food waste charity reviewed 'use by' and 'best before' codes across more than 23,000 products sold in supermarkets and interviewed 29 retailers and manufacturers. It then zeroed in on 10 of the most popular among consumers, and the most likely to be chucked in the bin.
It found that it was "feasible" to challenge existing protocols around setting these dates and add a day's product life to many food items, saving a quarter of a million tonnes of waste in the process.
The biggest opportunity, says Wrap, lies in challenging 'use by' and 'best before' dates on potatoes, apples, mince and sliced ham, all of which had a generous buffer built in by manufacturers.
Methodologies used to set these dates were "varied" between SKUs, it found, with the charity recommending a "more consistent approach to setting practices by retailers and manufacturers."
This will "avoid any potential confusion and ensure that the consumer is given more consistent advice for comparable products," it added.
"The findings in our report are a real opportunity for the industry," says Wrap's director of sustainable food systems Dr Richard Swannell. "By implementing these simple recommendations, food manufacturers and retailers can make a big difference in the battle against food waste, without even having to change products and packaging.
"We estimate that shoppers could save upwards of £500m, and businesses could save £100m in waste prevention alone."
Best before
That leaves the 'best before' date as the most controversial food label. EU law requires food to carry some marker of durability, so manufacturers opt for 'best before' on foods with a long shelf life such as tins or dried pasta. But crucially 'best before' date marks are an indication of quality, not food safety, and there is no law saying they can't be sold or redistributed after this date (except with eggs) despite the indignation of customers convinced they've been sold unsafe food.

Often treated as an excuse to chuck out food, both by supermarkets and consumers, many waste campaigners have called for the abolition of 'best before' labels. The French banned its equivalent, the DLUO label, in March 2015, so EU membership cannot be used as an excuse here.

Grocers have taken steps to reduce their use, with Lidl replacing 'best before' labels on fresh fruit & veg with packaged codes instead. This "allows the customer to assess by sight and feel whether their fruit or vegetable product is edible or not," says a spokeswoman.

But most 'best before' dates serve a purpose, insists Hargin. "It's often not easy to tell when a product is past its best, particularly when food is packaged," he points out. "They serve a core function for the consumer."

Nevertheless "it's quite acceptable to sell product that is past its 'best before' date," he adds. "That's quite legal and acceptable in an effort to minimise waste."

Yet none of the major mults have opted to do so.

Retailers serious about cutting out food waste need to rethink this policy, says Voytek Stando.

He's the founder of the Best Before Project, a network of 'pay as you feel cafés', and he insists consumers will "absolutely" buy food past its 'best before' - at a discount. "We set up two retail outlets distributing food past its 'best before' date and these were highly successful," he says. As a result some c-stores have already begun selling produce beyond its 'best before' date, such as the independent Metro Food & Wine in West London. "It's all a matter of price," adds Stando.
The impact of 24 hours extra product life:
250,000:
tonnes of food waste could be cut
£500m:
could be cut from shoppers' grocery bills
£100m:
could be saved by food businesses
Should supermarkets follow suit? Approved Food founder Dan Cluderay doesn't think so, even though (or perhaps because) his discount online business shipped 9.1 million items last year, many of which were beyond their 'best before' date.

"The big retailers are bothered about their brand," he says, which won't be boosted by stocking cut-price food past its 'best before' date. Indeed, for Wrap the blame lies less with the supermarkets that won't sell food past its 'best before' date, and more with the redistribution charities that reject it.

In its May report, it pointed out that far more surplus could be redistributed if charities would review their policies on accepting food past its 'best before' date.

Policies among redistributors currently are split. Some are more than happy to accept food technically past its prime. The Real Junk Food Project stocks up on surplus food and "use their own judgement" as to whether or not to accept food past its 'best before' date.

"We do not turn food away simply because it has 'expired', but we will never serve food that we believe is unfit for human consumption," says the group. It makes the final decision by "smelling it, tasting it and visually inspecting it."

But for the two biggest UK redistributors, FareShare and Company Shop, that isn't good enough.

Strict policies

Company Shop, which redistributes about 30,000 tonnes of food a year, says "we do not sell beyond 'best before' dates. All of the food Company Shop and Community Shop sell is high-quality, in-date, and wholesome and good to eat".

FareShare, which redistributes about 10,000 tonnes of food a year, takes a similar view. It only redistributes food past its 'best before' date if it has an extension letter from the food company and for the bulk of its food sticks to 'best before' dates.

Yet retail partners such as Asda say it would "happily donate anything that's just past its 'best before' date" if FareShare and other charities would only accept it.

"While we may eat food past its 'best before' date in our own homes, that is a personal choice based on our own assessment of the risk," explains FareShare's director of food Mark Varney. "The situation is very different when you are providing food to charities that will cook that food and serve it up to vulnerable people.

"The food we redistribute will be eaten by people, many of whom have weakened immune systems," he adds. "We believe it's our responsibility to ensure that the food we redistribute to our charity partners is safe to eat, and would rather err on the side of caution."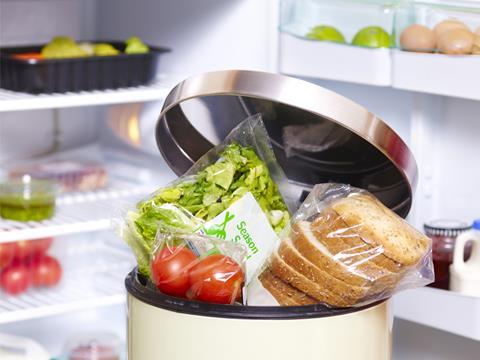 There is also the questionable ethics of lumping poor people with food that's 'not good enough' for paying customers, of course, an argument put forward by The Trussell Trust's Chris Mould, which also only hands out food within its 'best before' date.

"I don't understand that," says Cluderay. "The alternative is it goes into the ground," he says. "By saying it's insulting to people is only adding to the belief that 'best before' dates are worse for health and safety."

FareShare is adamant reviewing these policies would make limited difference. "We don't believe 'best before' dates are a significant barrier to redistribution," says Varney. "Food often becomes surplus in advance of the 'best before' date, for reasons such as overproduction, forecasting, damaged packaging or mislabelling."

But with Wrap highlighting the potential for an extra 105,000 tonnes of food to be redistributed from retail by 2025, perhaps ripping up the rulebook when it comes to date labels would be a good a place to start. OUT OF date?
Food labels: what do they mean?
The law
Not required by law.
Purpose
First used by Marks & Spencer in its stock rooms during the 1950s, 'sell by' dates only gravitated onto the shop floor in 1973 "as a guarantee of freshness". However, they are grounded in neither food safety nor food quality tests and serve no function for consumers, according to the FSA.
Controversy
In 2011, new government guidance was published advising retailers to remove 'sell by' dates to cut down on waste. Backed by both Defra and the FSA, the guidance blamed 'sell by' dates for up to £12bn of good food being binned by consumers each year with shoppers mistakenly linking 'sell by' with food safety.
Progress
All major supermarkets (including M&S) have now ditched 'sell by' dates in a bid to cut food waste.
The law
Requires all highly perishable foods to be given a 'use by' date, including smoked fish, meat and prepared salads. Under the General Food Law it is an offence for a retailer to sell "unsafe" food, and EU regulation 1169 clarified in 2011 that this would include any food past its 'use by' date, though it is unclear whether this definition will still apply following the UK's exit from the EU.
Purpose
They act as a marker of food safety and are set by manufacturers following rigorous transport and storage testing.
Controversy
Some allege that 'use by' dates are overly conservative and that it is in fact in the interests of manufacturers and retailers to set a short shelf life for products to encourage repurchase. However the FSA does not advise consumers to exceed 'use by' dates.
Progress
Technological advances in areas such as packaging have led to short life - and therefore 'use by' dates - being extended across many core lines. For example, the use of MAP (Modified Atmosphere Packaging) for red meat and prepared foods.
The law
Under the Food Labelling Regulations 1996 (applying an EU directive), food sold to consumers must carry "an appropriate durability indication" with the exception of fresh fruit & veg, alcohol, bread, salt and vinegar. Unless a 'use by' is required this can be satisfied with a 'best before' date.
Purpose
Set by manufacturers, these dates indicate when food is in its prime condition, though there is rarely a safety risk in exceeding them.
Controversy
'Best before' dates are often wrongly associated with food safety by both consumers - and organisations - chucking out edible food past its 'best before' date, leading to huge amounts of avoidable food waste both at retail and household level. Several food waste campaigners have called for their removal over the years. And the French banned them last year.
Progress
The EU Commission is now set to undertake a review of how and when these dates apply as part of its plan to tackle food waste. What this could mean for the UK is unclear post-Brexit.