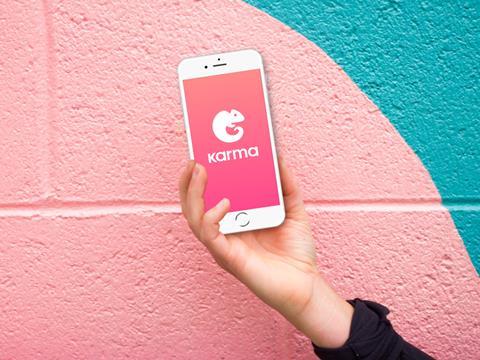 Swedish food waste app Karma, which is on a mission to reduce surplus food waste by connecting consumers with grocery stores, cafés and restaurants, is set to target UK supermarkets after raising a further £9.4m in funding.

The latest funding round has seen Karma receive investment from various parties, including Swedish investment firm Kinnevik, app manufacturer Electrolux and venture capital firm Bessemer Venture Partners, and takes the total raised to £14.1m. The money will allow the company to expand its team from one office with 35 people in Stockholm to 100 people based in five markets around the world by the end of next year. Karma also said the funds would help drive its focus on working with supermarkets, including UK retailers.

Karma, which started in 2016, made its London debut in February this year. Since then it has signed up more than 350 restaurants in the capital, such as Caravan, K10, Taylor St Baristas, Ned's Noodle Bar and Detox Kitchen.
The app allows users to buy surplus food that would otherwise go to waste at half price or lower. Karma's partners upload their details for users to place orders and pay for the food before collecting it at a specified time.

"We are delighted to announce this investment which will accelerate our mission to reduce food waste globally," said Karma CEO and co-founder Hjalmar Ståhlberg Nordegren. "We have known the team at Kinnevik for a long time, and they have the long-term perspective and operational expertise we were looking for in partners, and are also delighted to be working with two new top-tier partners in Bessemer and Electrolux who bring unparalleled expertise in their respective fields."

According to Karma, its partners have the potential to increase yearly revenue by up to £30k from food that would otherwise go to waste, while opening up businesses to new customers.