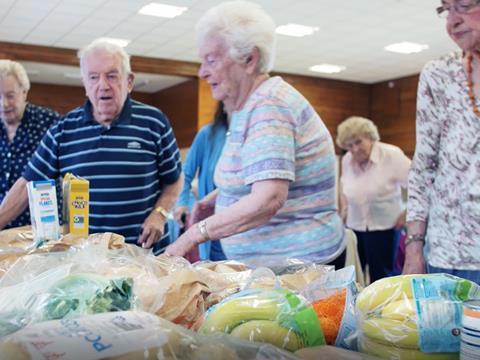 Lidl is to roll out its first national food redistribution scheme.

Following a "highly successful" eight-week trial, the partnership with social network Neighbourly will be rolled out across all Lidl stores by 2018, providing an extra two million meals a year to local charities, the retailer announced this week.

Working with Neighbourly, which has also worked with M&S on back-of-store surplus, the initiative will see stores matched with local charitable projects that can then collect edible food surplus each day.

"This new partnership provides a great opportunity for us to make a real, positive contribution to the communities we operate in," said Daniela Tulip, Lidl UK head of corporate social responsibility. The initiative has already been tested in stores in Lincolnshire and Yorkshire, which helped to feed more than 3,400 people at local projects, with an additional 100 stores expected to be active by the end of June 2017, and the retailer's entire estate participating by summer 2018.

The discounter has also become the first retailer to sign up to Neighbourly's #FundaFridge campaign, which highlights the lack of fridges and freezers owned by many organisations relying on surplus food. Under the commitment, Lidl will donate more than 100 fridges and freezers.

Partnering with the network will also remove the cost to charities of paying for food deliveries, added Neighbourly founder Nick Davies, whose network matches stores with local charities and recruits volunteers to help redistribute surplus food. "As we've seen with the success of the pilot programme with Lidl, if adopted widely this model could change how the supermarket industry deals with the redistribution of surplus food and provide a more holistic solution for community partners."

In September 2016, Lidl came ninth among the 10 major food retailers in The Grocer's first ranking of food waste winners and losers, as it was "lacking either a national strategy on redistribution or reduction targets" despite signing up to Courtauld 2025.

But UK CEO Christian Härtnagel said he recognised the "unique opportunity" the food sector had to tackle current levels of waste. "We're proud to be able to support The Grocer's Waste Not Want Not campaign," he said. "To really deliver impact, we recognise that this cannot be delivered individually but by working closely with our peers and business partners across the industry.

"Our ambitions for reducing food waste go beyond the internal business commitment because, through the rollout of our national food redistribution programme with Neighbourly, we are also striving to support those most in need."

Registration is now open for The Grocer's free food waste webinar with expert panellists from Tesco, Unilever, FareShare and Company Shop. To register and submit your question go to thegrocer.co.uk/wastenotwantnot.