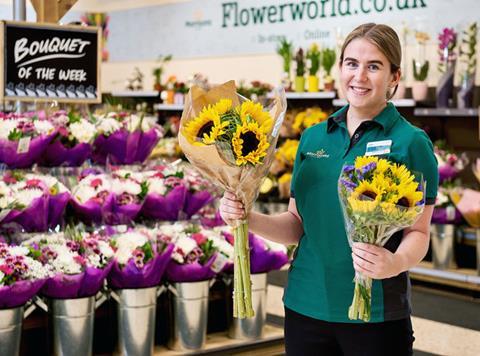 The heatwave looks set to spark a new shopping trend, with Morrisons starting to sell 'wonky flowers' in a new offshoot to its wonky vegetable range.

The retailer will today unveil the first two of what could be a blooming business, in the shape of wonky British sunflowers and statice, also known as sea lavender.

Crops of both varieties have been among those hit by the ferocious summer heat and the retailer said the move would prevent them going to waste and present shoppers with a bargain.

The flowers will be priced at £3 per bouquet, compared with £5 for a standard version.
Bunches of both types will have shorter than normal stems due to the lack of rain over the past few weeks. Morrisons said flowers would in future be sold as wonky if they fail to develop properly. They may have shorter stems or smaller flower heads.

"It would be a shame to see these beautiful stems go to waste just because they're a few centimetres too short," said Drew Kirk, category director for flowers at Morrisons.

"Our wonky range helps growers and farmers reduce waste and at the same time helps customers to afford to buy flowers more often."

Morrisons, which launched its wonky vegetables line in 2017, has pledged to increase the number of seasonal wonky lines to 33 this year, including wonky versions of more exotic fruit & veg such as avocado.